Gossip Girl Round Table: "Damien Darko"
Steve Marsi at .
Welcome back to the weekly TVF Gossip Girl Round Table, where our panel breaks down the previous night's episode (see our review from earlier this morning).
Below, lead Gossip Girl writer Mister Meester joins esteemed editor-in-chief DANdy and TV Fanatic CEO Gossip Guy to discuss topics from "Damien Darko" ...
~~~~~~~~~~~~~~~~~~~~~~~~~~~
1. What was your favorite Gossip Girl quote from last night?

Gossip Guy: I don't think there was a line of dialogue in the W scenes I didn't love, but if forced to pick? The idea of Blair putting that she's never worn a scrunchie on her resume. 
Mister Meester: "Oh. Em. Gee. I just got poleaxed by a poor person." - Blair
DANdy: I always love it when the show winks at its repetitive storylines, so gotta go with Blair's reference to Serena's "sporadic" love for Dan.
2. Is there a twist to the Eric-Damien story we don't know yet?

Gossip Guy: Yes, but the idea of Damien and Eric actually starting a relationship seems too obvious.
Mister Meester: I hope so. Eric and Damien are both characters with a lot of potential. And this will prove a fairly dull storyline if there is no twist.
DANdy: No, nor should they be. Eric simply choosing to hang out with Damien and pop a few pills because he's lonely is all the excitement I need!
3. Dan and Blair: Better enemies or friends?
Gossip Guy: Duh. Frenemies. Did you hear their witty banter? 
Mister Meester: The more I see them on screen together, the more I love the dynamic - and the less I think it would work romantically, especially compared to the look she shared with Chuck in their 12 seconds of screen time together last night.
DANdy: Dair I say it? Friends... with benefits, of witty banter.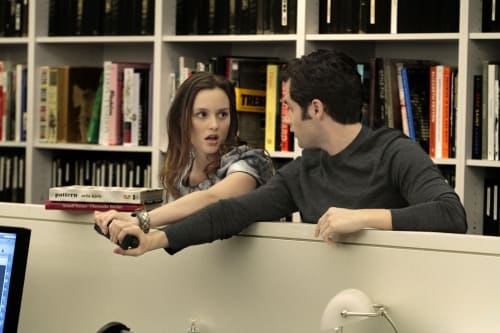 COMEDIC STAPLE: Dair is becoming one with scenes like this.

4. Worst hire: Dan as fashion intern or the Captain as CFO?

Gossip Guy: Oh without a doubt the Captain. Dan got classical training in the art of fashion from the most beautiful model of all: Serena. Plus he can write and oh, I don't know, WASN'T JUST RELEASED FROM JAIL FOR EMBEZZLEMENT.
Mister Meester: The Captain makes sense if he was hired for, not in spite of, his embezzling history. I buy Dan as a W intern about as much as Blair's insistence that a well-known fashion designer like Eleanor wouldn't make calls on her daughter's behalf.
DANdy: The Captain as CFO. Clearly, this is leading to a New York Post headline that screams: Captain Steers Thorpe Industries Into Financial Iceberg!
5. Team Damien or Team Ben?

Gossip Guy: Team Damien. And I swear it's not just cause he's my dealer.
Mister Meester: Team Damien obviously. Narcotics dealing aside, that guy rules. There's this complexity beneath the surface that suggests he may not be all bad, and I'm glad the show is exploring this character. As for Ben ... how can you be on Team Ben? He's boring as heck. Yeah, what Lily did sucked for him. But he's free. Good for him. Now go. Away. It'll be spring in Ithaca in 3-4 short months.
DANdy: Team Damien. That character is capable of more than one facial expression.
BONUS: In honor of Vanessa (miss you, NOT) and a certain guy slowly becoming useless himself, rate last night from 1-10 on the Rufus Uselessness Scale.

Gossip Guy: 9.  I took away a point for giving an ex-con a key to his loft. That's just proof of the old naive Rufus is still in there somewhere.
Mister Meester: 6. He had some dialogue this week, but dude is becoming part of the scenery. You know Lily has the help making those brunch spreads. Sad.
DANdy: 8. He brought nothing to any storyline, but at least he made me laugh. "Sure, take as long as you need to think about my offer! Take my keys as you do, guy I barely know who lives in a halfway house with shady ex-cons!" I'm just surprised Rufus didn't offer his credit card, as well.
What do you think? Sound off in the comments!
Steve Marsi is the Managing Editor of TV Fanatic. Follow him on Google+ or email him here.