Division misses one base when recruiting criminals without family or loved ones: they don't think about people's pasts. It's not like they fly the recruits across the country to ensure they don't have a run-in with someone who thinks they're deceased.
On "Alexandra," by far the darkest episode of the season, we saw how this can be a problem, visiting the tragic past of Alex - or I should say, Princess Alexandra Anastasia Udinoff.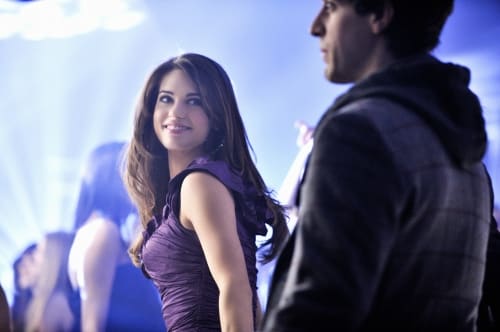 During "Free", I found myself wondering why Alex's father seemed as if he knew he would be killed, and now we know why.
Alex's dad was not only a company owner, but a King. I did not see that coming, and my heart broke for her when she was forced to be a part of his legacy, ultimately finding herself illegally transported to America as part of a Russian sex slave trade. It was particularly hard for me to watch her withdraw from the drugs Vlad with which shot her up. When Alex killed him and took her father's watch back, her eyes closed in a moment of relief.
However, when Nikita reviewed the tape from Vlad's, you saw the face of a stone cold killer in Alex. While I don't think Alex has succumbed to Division's ways, I am convinced that she has a killer inside of her when it comes to her father's murderer and the person responsible for her terrible past.
One question, though: why in the Hell would she let Irina run free? Still, that girl got her into the cage in the first place. Irina is also still very much a druggie, and was loyal to Vlad for that purpose, so I don't think we've seen the last of her.
It was great to see some ends closing up as far as Michael and Nikita are concerned. He finally confronted her about when she stopped him from killing Kaseem. When she told Michael that she stopped him to keep him safe, we all know she meant to say it was because she loved him. Mikita was strong this week; I will never tire of seeing them work together.
Hearing Michael and Nikita talk about Kaseem, with her making a promise that she will help him get revenge, makes me very optimistic about the future. Every Mikita fan was devastated and angered when Nikita prevented Michael from killing his family's murderer, but now that she knows he had a clear shot and a way to escape before being killed, I believe she will do everything in her power to correct that.
Percy, on the other hand, was extremely elusive this week. Why was he so happy to get that cell phone and what are his plans? As soon as that cell phone was in his hands, all seemed fine in the world, didn't? He couldn't care less if the recruits went on a killing rampage. This better be followed up on.
All in all, I was extremely satisfied with this episode, as it answered questions and provided a lot of necessary information about the characters. And of course, us Mikita fans were given something to smile about.