Little by little, Off The Map pulls me in each week. I'm always grateful for the gorgeous scenery that offsets the occasional medical gore. The ocean, waterfalls, mountains, and rainforest make me feel as though I'm skimming through a travel brochure.
"I'm Here" showcased how much these characters have begun to rely on one another and how others are reevaluating their relationships.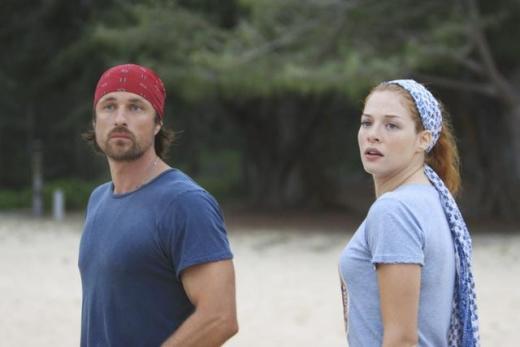 Angus Sinclair rolls into town with his larvae infested skin and tries to woo Zee. Seriously, only a doctor could flirt with a guy while removing puss and larvae from under his skin. I'm just hoping I don't recall that scene the next time I eat a slice of bacon.
Zee has been assessing her relationship with Otis since the start of the season. This breakup is no surprise, Sinclair just pushed things to a head. Now we'll see if Otis has any real feelings for Zee or if he simply moves on to his next fling.
And could that fling be Mina? They certainly make an odd couple but Mina was definitely moved when Otis shared the details of his addiction. I don't think Otis had any idea what she was trying to tell him when she spoke with him on the porch.
I'm not entirely sure that Mina knew what she was trying to convey either but their interaction continues to be entertaining.
The amputation under water was dramatic but I was happy they didn't dwell on the actual surgery too long. Although I'll admit that the blood slowly floating upward in the water was an eerie sight. And I liked how it brought Tommy's issues with his family to the forefront.
I was happy to see him send the picture back home. At least they'll know he's well.
Lily continues to let her naivete get the better of her. I don't know what Mateo's real story was but neither did she. Hopefully her trusting nature doesn't put the clinic in jeopardy with the local police. That could be bad for everyone.
Any guesses on what is wrong with Ryan? There's obviously more there than just the bends and from the look on her face she seems to know what it is. We'll see how long the big reveal takes and if she confides in Ben or someone else at the clinic.
So we leave the jungle this week with Zee deciding not to kiss her bug infected suitor, Lily kissing her patient who is bleeding from an abdominal wound, and Tommy kissing the waitress who doesn't speak English. Somehow I'm betting they'll find a way to communicate despite the language barrier.
C. Orlando is a TV Fanatic Staff Writer. Follow her on Twitter.