Our jungle doctors were forced to face their demons this week and that left more questions than answers. "It's Good" started off with a situation that was anything but.
The clinic was robbed. Pain meds, anesthesia, everything including the tongue depressors were taken and Ben was furious at everyone, especially Lily. If she hadn't lied to the police, then they wouldn't have stopped protecting the clinic.
He had a point but Lily wasn't the true reason for his wrath.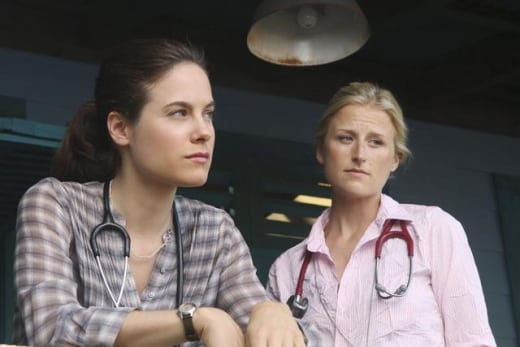 Ben got his wife's latest test results and they weren't good. No change. Has Ben decided to take Abby off of life support? He seemed to be leaning that way. He spoke to Ryan about moving on. He made it sound like he was considering moving on with her.
In true one step forward, two steps back, soap opera fashion, these two love birds faced another obstacle but Ben was still in the dark about Ryan's medical condition.
The helicopter crash surprised but didn't shock me. That last shot of the passengers as it took off felt as though it lasted a beat too long, a sure sign of something ominous to come.
The crash made me wonder what Ben was thinking in that moment. Ryan was supposed to be on the flight but the chopper was full. Did he experience a moment of "Oh God, that could have been you," or did he simply slip into doctor mode? Maybe I'll get that answer next week.
We got more info on Ryan's illness. She was infected by assassin bugs when she was a child and now she's beginning to experience heart failure. She seemed more concerned about how her illness affected Ben than getting treatment.
Ryan seems like a smart young woman. Having her portrayed as a lovesick romantic willing to risk her own health lessens a character I've grown to like.
On the upside I continued to enjoy Otis for his flaws. The way his eyes lit up when he spotted the heroin cooking on the stove felt realistic. Ben's correct.
Even though Otis has been sober for nine months, there's no guarantee he won't slip again. Every day's a fight to stay clean. It was classic addict behavior when Otis pocketed some of the drugs. We'll have to wait for next week to find out if he used it.
When Mina stood up to the drug dealer it felt more than a little contrived but I don't expect a lot of gritty realism from Off The Map so I was willing to let that one go. The scene showed that she was willing to put her neck on the line for her patients and colleagues and that was enough for me.
Tommy meeting his girlfriend's father was just boring back story. His frat brother with viral meningitis didn't wow me either but it was nice to see Cheech Marin back again.
I wasn't impressed with the love story between Lily and Mateo. This new love interest felt forced.  Perhaps it's being used to give Lily something to do that doesn't revolve around Ben. 
For a supposedly shy young woman, Lily hasn't learned not to shower on the main hiking trail. Or has she's learned that that's where she finds the gorgeous men in this jungle.
You be the judge.
C. Orlando is a TV Fanatic Staff Writer. Follow her on Twitter.