Paula Deen is kinda mean. That's what I learned during this episode of Top Chef. As the official spokesperson for butter, and also the guest judge, Deen sure stirred up some deep emotions. Let's recap!
Quickfire Challenge
The Quickfire Challenge is simple: fried foods. Did you know you could fry mayonnaise? It sounds weird and not good, but with some liquid nitrogen, you can make your very own mayo balls! While Richard was being creative, Mike (who should've been long gone!) stole one of Richard's ideas. He made a "chicken oyster" and plated it as an oyster dish... so clever and something he would never have done by himself.
And, of course, it's Mike who wins the 5K, despite a major Chef's Law violation.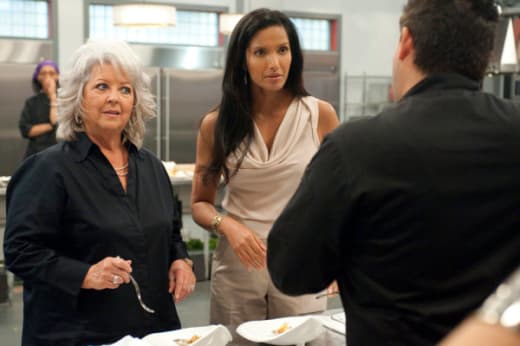 Poor Carla, who wanted to impress Paula so desperately, messed up her hush puppies. And Antonia almost breaks down for only plating one dish and losing out on the money.
Elimination Challenge
The southern theme continues with the Louisiana chef John Besh. The challenge is to cater for Greater New Orleans Foundation, which aids fishermen and women of the Gulf affected by the oil spill.
The chefs are tasked with cooking seafood with the help of the previously eliminated chefs! Yay, Fabio's back! And reunited with Richard! The All-Stars get to pick their partners from the eliminated, along with the protein. It's a pick and choose kind of situation; what do you want more, the chef or the protein?  You just know Tiffani does not want Marcel, but she really wants the white shrimp.
Antonia's crabcakes and Mike's shrimp and grits get early approval from diners and judges. Of course, Mike got by on the challenge purely through Tiffani F, who lived in Louisiana. 
Judges Table
Team Richard and Fabio FTW! Richard wins the challenge and gets some of his mojo back from the Quickfire, although Mike is also in the Top 3. Richard wins a trip to Barbados and invites Fabio to come with him and his family. Seriously, how cute is that?
Tiffany and Carla are especially disheartened because they felt like they had a lot to prove with Southern cooking. Dale, who felt overwhelmed by the challenge, ends up going home. Although not the most personable of chefs, he deserved to stay over Tiffany and especially Mike.
Don't you agree?