Romantic moments on NCIS aren't too frequent, but with Valentine's Day still fresh, it looks like we're in luck this evening. One of the special agents gets kissed. But who?
"Somebody has a crush and it ends up in a lip lock," Pauley Perrette (Abby) teased at the Grammys Sunday. "[Kisses happen] very few times over eight and a half years."
"I'm not saying who it is, but some fans will be excited and some fans will be angry."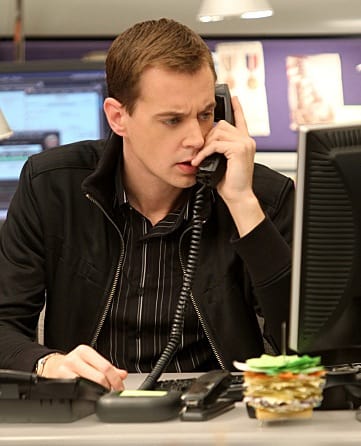 NEVER BEEN McKISSED: It's gotta be Tim, right?
In tonight's episode, we know a botched assassination attempt forces NCIS to protect a Defense Minister's daughter, who becomes smitten with McGee. How will Abby react?
Of course, it could be a separate plot line that leads to a lip-lock. We know that Ziva's BF Ray is coming to town at some point, although we don't think it's this week.
Share your comments and theories below!
Steve Marsi is the Managing Editor of TV Fanatic. Follow him on Google+ or email him here.