Sam Witwer Interview: Being Human Star on Vampires, Drug Addictions and More

Carissa Pavlica at .
Sam Witwer may be seen brooding every Monday night on Being Human, but he made it clear in a recent conference call: this actor was his high school's class clown.
Below, we've excerpted a number of quotes from an interview with the star, as he touched on the American version of this show, the British version and how Aidan compares to Edward Cullen, Damon Salvatore and others...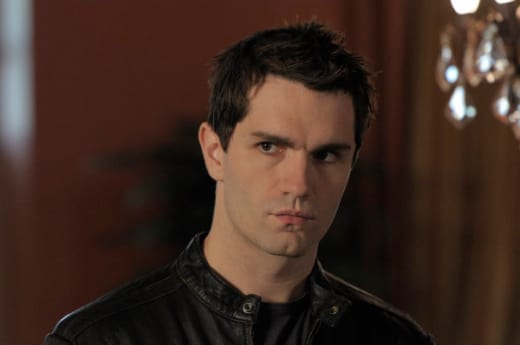 How does Aidan compare other vampires on TV and in film right now?
You're going to be very disappointed in me. I have not seen the other vampires. I don't know what they're doing. I haven't seen any of the shows. I haven't seen any of the Twilight series... I don't have an original take in it. I heard from a few people that I kind of do, but I'm just kind of crossing my fingers and doing my own kind of unpolluted take on the vampire thing.
Talk about the Aidan/Rebecca dynamic, especially after the previous episode.
Me and Sarah Allen, all we ever discussed was drug parallels and addiction and all that, and that was what the producers wanted. So everyone is on the same page about this metaphor. We even blocked the scenes and shot them in such a way that they were suggestive of other things. I'll just kind of leave it at that.
Because there's definitely all kinds of stuff going on there, including a very strong sexual element, the tragedy of what happens in that episode and what happens in the episodes following that episode is that she's sincere in her intention to beat this and so is Aidan. But they both have the same problem, and therefore maybe they're not the best people to support each other because if one goes down the other one's going down with them.
Is Aidan a failed character? Will we see him redeemed?
That is a very, very interesting question... I'm trying to play him like this is all ridiculously new to him. That this is going clean with something that has occurred to him in the past and he's tried on a few occasions, but this is the first time that he's really made a go of it and had any real success.
And because he's been a drug case for 200 years he doesn't have the tools that you and I have to deal with humanity on humanity's own terms. So, he's been relying on the substance abuse to get him through. So now we have what is in very strange ways - I mean, on one hand, he's a very wise old character who's accrued a lot of wisdom, and on the other hand he's a kid who has not developed - he's not developed normally.
Is he destined to fail? That is a question that we will answer by the end of the entire series. But in terms of the season, yes, we do see some failures and we do see some moments where, yes, he starts backsliding and it's some pretty ugly stuff.
Are there any stories coming up directly inspired by episodes of the BBC series?
That's hard for me to say because I've only seen the first episode of the BBC series. However, I do know that our general blueprint is their first season... [but] sometimes ours take a very different turn. There were certain, for example, storylines where I'd ask the producers, "Hey, did they do this on the British series and how did they handle this?" And I found they would tell me and it turns out that ours went in a very, very different direction or the conclusion was very different. And you'll see a lot of that in the mid-season. You'll see some stuff that you think is familiar, and then you're going to see that we take it in a different place.
We're very lucky to have such a wonderful series to draw from for our ideas. And the great thing is that the British series isn't going anywhere, so no matter what we do it's a big win-win for them.
Carissa Pavlica is the managing editor and a staff writer and critic for TV Fanatic. She's a member of the Critic's Choice Association, enjoys mentoring writers, conversing with cats, and passionately discussing the nuances of television and film with anyone who will listen. Follow her on Twitter and email her here at TV Fanatic.