I don't know what to say about "I See Your True Colors...and That's Why I Hate You" other than this: it was perfection in how well it managed to volley between intense and funny moments (including a few intensely funny moments!).
I was feeling for Sally as she tried to do justice to her friend and ex-lover, albeit in different ways, and then I was laughing out loud when Josh and Aidan tried to stop the latter from turning into a vampire in the middle of dinner with Josh's family. This episode had everything you could ask for in an hour of television, except romance. Frankly, it wasn't missed.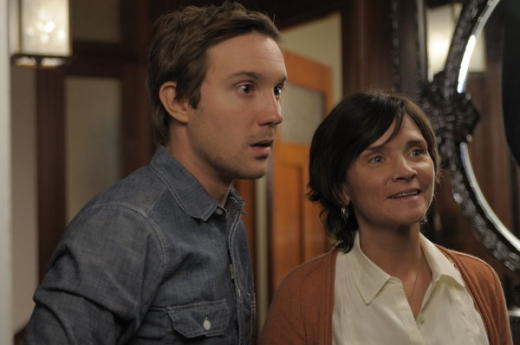 Everything seemed to happen so quickly. In moments, it seemed, Josh and Emily were on their way to his hometown of Ithaca. Apparently, she had given her parents Josh's journal, and his dad immediately asked him how long he had thought he was a vampire. It spiraled out of control from there.
There was Aidan turning into a vampire after eating garlic... Josh smashing a coat rack after many runs through the house trying to find a stake to take out Marcus... he and Aidan fighting in the back yard. Seriously, visit our
Being Human quotes
section and try not to laugh.
Elsewhere, the story of whether Josh told his parents his secret was left open and unfinished. Were the scenes were real or played out in Josh's head?
I've had some experience with domestic violence, and Sally's scenes with Bridget and Danny were quite painful to watch. The way they were filmed, it was as if Sally was Bridget's subconscious and Bridget knew everything Sally was saying was spot on. But her heart, her weak heart, couldn't let the thoughts ring true.
There is something so impossible to understand in a situation such as this. Part of of Bridget wants to stand tall and listen to her friend (and subconscious) and the other part wants to think only of the good in Danny and believe what Sally is suggesting can't possibly be valid. For some horrible reason, women still feel inferior if they don't have a partner.
Society tries tackling so many different inequalities everyday, but it still happens that some women don't feel strong enough to stand on their own. Bridget is settling for what she knows, instead of starting over, something Sally would give anything to do, but will never have the chance. I don't know if Sally's journey will continue with Bridget and Danny past this point, or if she has gone as far as her soul could take her.
For her, it was too late to make a difference in her own life, so she tried to save her friend. However, if you can't even save yourself, can you imagine the enormity of trying to bring such a truth to light in someone else's mind?
From humor ti despair, Being Human was a rollercoaster of emotions this week. The episode broke away from the UK version in such a way that I will no longer have any problem watching them concurrently. One last thing:
Could the wrapped bodies in the barn been what has become of Adian's wife and child? His family? Other families? I was thrown by that scene and I can't wait to see where it goes.
Carissa Pavlica is the managing editor and a staff writer for TV Fanatic. Follow her on Twitter.