SPOILER ALERT: Stop reading right now, or go check out our season finale review, before going any further...
Okay? Ready for scoop on what's ahead on White Collar? The show will return in June with "new mythology and a new story," says creator and executive producer Jeff Eastin, referring to the final scene of the finale and adding: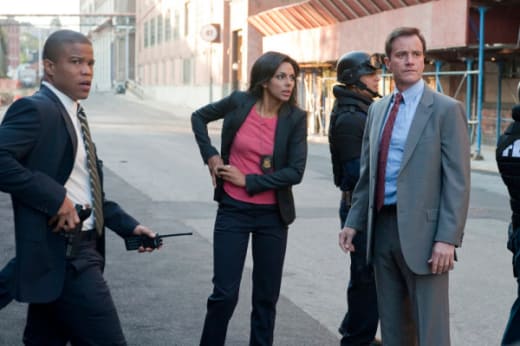 "[It] changes everything. Neal's goals, all of that is going to change... Season 3, for Neal, is really all about choices."
What about Neal and Sara? Says star Matt Bomer to TV Guide:
"I don't know that Neal is going to all of a sudden become a serial monogamist and they're going to be doing laundry together, but they're definitely going to enjoy each other and see where it goes from there. There's sort of a high stakes aspect to her life and her intelligence and her self-sufficiency that he finds attractive."
Other season three spoilers include
:
Viewers will see a Mozzie-based episode. "It's not going to be a straight flashback episode, but we will see young Mozzie. We will get to see why he's called Mozzie and how he came to be and how he came to New York," says Eastin.
Tiffani Thiesen teases a look into her character's past: "You'll definitely see a little bit more of her background in the art gallery world, which is she came from and how she met Peter. She actually might go back into that field."
We'll also learn more about Diana and Jones, including the introduction of the former's life partner, Christie.
Matt Richenthal is the Editor in Chief of TV Fanatic. Follow him on Twitter and on Google+.