Although the writers of TGS's 100th episode were high on gas when putting it all together, the writers of 30 Rock's "100th Episode" obviously were not.  This was a well constructed hour long episode filled with a multitude of hilarious guest stars.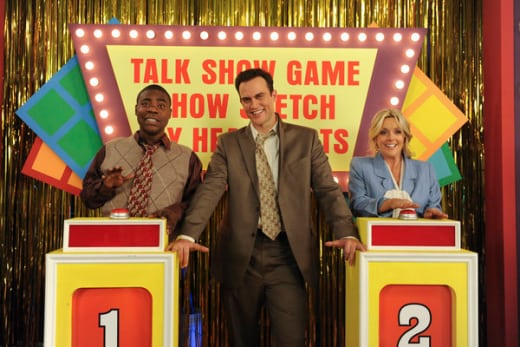 While it was not anywhere near a clips show, they did manage to bring back some of the funniest moments of the series, as many of the characters flashed back to memories of the first 99 episodes.  I know you were all cheering when Liz looked back at the time she played Princess Leia on jury duty.
Although they spent some time looking back, things were also moving forward, as Tracy attempted to re-ruin his reputation, Jack tried to figure out if he wanted to stay at NBC, Jenna thought about becoming a mother, and Liz battled with an ex that wanted back in her life.
That ex?  The hilarious Dennis Duffy!  Every time he comes back, him and his beeper are hilarious.  This time he added a Zack Morris like cell phone to his mix of early 90s electronics.  Whether he was commenting on Liz's loose neck or wearing Amare Stoudemire's evening wear collection, Dennis was getting it done, so it's a shame that Liz once again didn't take him back.
Jenna, as always, didn't bring much laughter, but her story line brought back Will Forte as her cross dressing boyfriend, who had a couple of good one-liners.  Why wouldn't he want to leave a baby that was prettier than him in the desert?
The Jack plot didn't quite work.  Even though it brought back the line, "It's after six. What are we farmers?", the four Jack Donaghys in one room thing didn't bring much to the table.
Tracy running around New York, trying to be an absolute a hole again, was great.  Beginning his tirade by exclaiming to Rachel Ray "Why don't you shut your mouth, back that ass up, and make me a sandwich!" was a pretty good way to start things off.  Attempting to shoot Kenneth on the roof of 30 Rock was a strangely fantastic way to end it.
After Jack finally convinced Tracy to come back to TGS in a wonderful meta moment by Alec Baldwin, as he explained that doing tv again would ruin his career, we were graced by the presence of Tom Hanks!  Apparently him, George Clooney, and Brad Pitt are the trio that run things at the top of the "Official A-List," and it was nice to see him admit that on national television...even if it was part of a joke.
Dr. Spaceman, Brian Williams, Ken Howard, and a fantastic guest starring role by Michael Keaton as Custodian Tom made up another humorous episode in 30 Rock's bounce back fifth season.  
What did you think of "100th Episode?"  Before sounding off in the comments, check out some of our favorite quotes of the night below.  Don't forget to see all the best one-liners at the TV Fanatic 30 Rock quotes page.
Hank: Without Tracy, your show is like my cholesterol...the numbers are killing me. | permalink
Jenna: The only thing I want latched to my fun bags are celebrity djs. | permalink
Jack: Do you know what I find facinating?
Tom: Mystery novels written by janitors? | permalink
Jenna: You're back!
Tracy: Yeah and this is my front. Thanks for setting me up with another classic quote. | permalink
Dennis: I'm still smart enough to know that I'll never do better than you Liz Lemon, cause you're a cook in the bedroom and a whore in the kitchen. | permalink
Dr. Spaceman: Jenna are you pregnant? How? Did you go swimming in a public pool? | permalink
Jack: Do you have any idea how much paper work I'd have to do if you shot Kenneth? | permalink
Dan Forcella is a TV Fanatic Staff Writer. Follow him on Twitter.