I loved the scenes with Denise and Claudia Joy at the beach house this week on Army Wives. What an incredibly beautiful place to run to. The beach outside the window, the sounds of the ocean; just watching had a calming effect.
When Frank showed up, they had a conversation that really needed to be discussed. In the end, it gave them both a better understanding of how they were coping, and erased their inaccurate perceptions of how the other was handling their loss of Jeremy.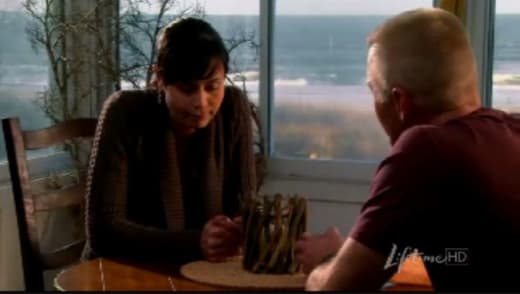 Unfortunately, the visit to the beach made Claudia Joy's ability to cope with the memories of her own daughter's death almost impossible to avoid.
I could feel the pain Claudia Joy was experiencing as she saw Amanda around every corner. I couldn't even imagine the memories it was bringing up for her.
The scenes themselves, however, were doubly confusing because they didn't use the same actress who actually played Amanda. So, even when Amanda turned around, I didn't know it was supposed to be her. It took me a few scenes to understand that in her mind, Claudia Joy was picturing Amanda. Was anyone else confused? (Update: Nope, I was the only one confused. It WAS Kim Allen, the original Amanda. Her hair is lighter and she looks healthier, but it was her. That makes the scenes, viewed a second time, much more powerful!)
I knew that Roxy was planning her life without Trevor. If he could only understand what she was feeling, he might be able to help walk her through this, but they are just circling different worlds.  It felt like every word that came out of his mouth was harsh and showed he was doubtful of her ability to provide for her family.
It would take on a different perspective if they showed him struggling with his absence, but I don't feel like he is the same man who left for duty. Perhaps we will learn his current emotional distance is his own reaction to Jeremy's loss. As it stands now, he is not my favorite husband.
Did anyone imagine Roxy would turn to Whit to build the truck stop at half the price general contractors charge in the area? He made it pretty clear he would do almost anything for her when he was in town. Is Trevor a part of Frank's squad? Will he be coming home early to a newly thriving friendship between Roxy and Whit?
It felt so good for Roland to hear Frank thank him for what he did for Jeremy. I think his death completely wiped out of Roland's mind why Jeremy went to him in the first place. Attempted suicide. Roland gave the Sherwoods their son back, even if other events took him in the end. That's nothing to dismiss.
The gentle way Joan handled his sorrow, without giving up on his ability to bounce back was more evidence that my assessment of a marriage in despair at the beginning of the season was way off base.
I'm loving the scenes between Chase and Pamela. To finally have a storyline where they are on the same page and not fighting their separate life paths was a welcome relief to the more serious drama playing out in "Walking Wounded."
The baby playing Molly is so incredibly beautiful. As she smiles and gazes into Denise's eyes, I just melt. The baptism was the perfect way for our characters to start fresh and step forward into life again. Troubles will always be there to create tension for them to address, but I'll take the happy moments and savor them when given.
Share your thoughts of this weeks episode in the comments. We love to hear what you have to say!
Carissa Pavlica is the managing editor and a staff writer and critic for TV Fanatic. She's a member of the Critic's Choice Association, enjoys mentoring writers, conversing with cats, and passionately discussing the nuances of television and film with anyone who will listen. Follow her on Twitter and email her here at TV Fanatic.