We know Callie and Arizona are getting married on Grey's Anatomy (save the date, May 5). But will they be the only couple tying the knot by the end of Season 7?
Calzona's big day won't be without drama, according to TV Line, and two major absences at the wedding make you wonder if a second pair is also sealing the deal.
The whole cast was on hand for the wedding shoot, sans Ellen Pompeo and Patrick Dempsey. Could Meredith and Derek be off partaking in their own nuptials?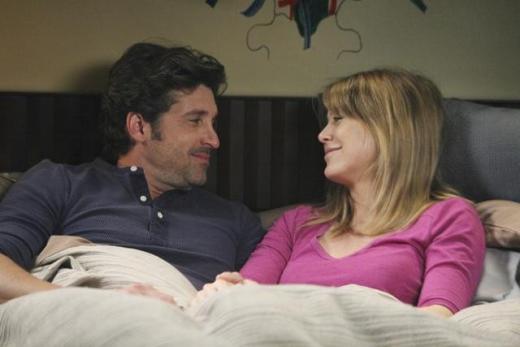 Will the Post-It on the wall be joined by a legal companion?
Rumors have been circulating that Drs. Grey and Shepherd will make their Post-It union legal this season. Will they choose Callie and Arizona's wedding day to do it?
We know there's a big Mer-Der story coming up this spring as well, but we'll have to wait and see how this plays out. As for the wedding we know takes place ...
"There is a circumstance that leaves Callie's father (played by Hector Elizondo) to not be able to walk her down the aisle," says Jessica Capshaw of the elder Torres.
Carlos was not a big fan of Callie's same-sex romance to start with, though he came around. Mostly. But it looks like that may have been just half the battle.
"What's really beautiful about this episode," says Sara Ramirez, "is that there is a moment where Callie is really doubting herself, her life, the choices that she's made."
"To pick this person to be with for the rest of her life is not received well by her mother, and that presents a real difficulty for her because I think she looks to her mother for some kind of emotional embracing around this whole event."
Alas, Lucia Torres (Gina Gallego) has her own thoughts on her little girl's conundrum, so by the time of the wedding day, the guest list will have been altered significantly.
Still, buoyed by a terrific pep talk from the ceremony's extra-special officiant, Bailey (played by Chandra Wilson, who also directed the episode), Callie finds the inner strength she needs to forge ahead - with a McSteamy man on her arm no less.
"Mark ends up giving her away, which is really sweet," Ramirez reveals.
"He has always been Callie's best friend, through thick and thin … and now they have a child together. They're bonded for life, basically!"
Steve Marsi is the Managing Editor of TV Fanatic. Follow him on Google+ or email him here.