Terra Nova - the widely-hyped, incredibly expensive new drama coming to Fox this fall - will take viewers into the future. 2149, to be exact.
But in a TV Fanatic interview with Jason O'Mara this week, the star of that show wanted to discuss the present; specifically, the impact social media can have on the launching of a series. Said the recent Facebooker:
"I wanna give fans a backstage pass to Terra Nova, even before it premieres. I've been posting photos and videos on Facebook and will continue with it when we go to Australia [to resume shooting]."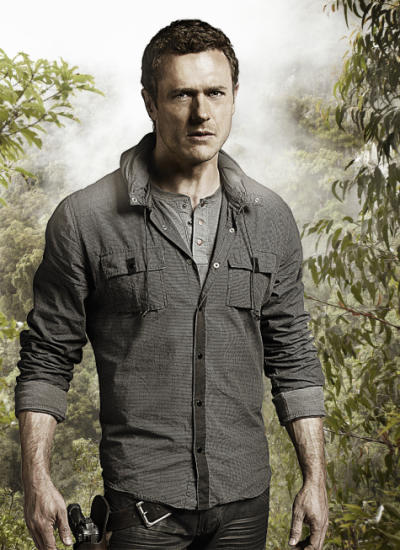 O'Mara discovered the unique joys one can elicit from Twitter when he actually opened his account during WonderCon in San Francisco last month. He began posting from the panel, in front of 3,000 attendees.
"It was fantastic," the actor said, explaining that he was "a bit cautious" at first to Tweet because it "changes the experience." No longer is acting a private journey one shares with his co-stars.
But O'Mara enjoys it, understands the benefits for a show and is focused now on building an "infrastructure" of followers, ones to whom he can provide instant on-set updates, bypassing the time it takes to get messages across via reporters and bloggers.
Of course, the star of Terra Nova did have a lot to say about the show itself. To wit...
On Jim Shannon: He's an ex-cop. We don't know why he left the force at this point. He's also been in jail, for reasons unknown at this point.
On the pilot: Jim's wife is a skilled surgeon and is asked to go Terra Nova. Jim is not asked. But with help from persons unknown, he breaks out of jail and travels back with her. It's a famous place, everyone knows about it in 2149, but it's still amazing to see. Eventually, Jim is asked to join the military system holding everything together.
On mysteries for the audience: The past will catch up to Jim at some point. People and reasons for things that are unknown at the outset will drive the story forward and Jim will find himself caught in between a power struggle in Terra Nova. What side will he choose with the future of mankind at stake?
Terra Nova premieres this fall on Fox. Wanna follow O'Mara on a daily basis? You can do so in the following ways:
O'Mara will also be launching his official, personal website in the near future.
Matt Richenthal is the Editor in Chief of TV Fanatic. Follow him on Twitter and on Google+.