How I Met Your Mother Review: "Challenge Accepted"

Chris O'Hara at .
New is always better. And this season's final new episode, "Challenge Accepted." proved that it is never too late for a finale to become memorable.
First off, though, a question: was that the set from the "Soup Nazi" episode of Seinfeld that Lily bought the soup from? It looked pretty similar. 
I didn't realize what was going on until Lily burst through the door and tried to stop Marshall from eating the meal. I was so thrilled for the news that I was sure would come that I didn't really mind how Lily's vomit sound actually resembled the T-Rex from Jurassic Park and not a velociraptor. Sorry for that Mosby moment. Who am I, Dino Dan?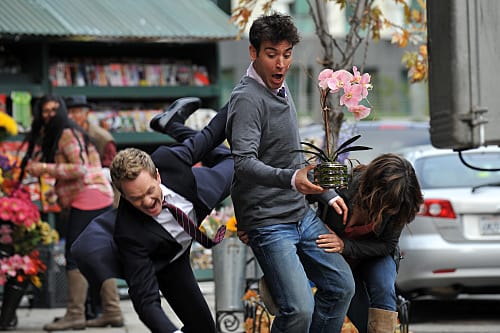 As if Ranjit's return wasn't joyous enough, we were treated to Robin and Barney rehashing their relationship as only they could. Robin recalled how she motor boated a much heavier Barney. What an image. I thought the exchange between them was great, in and out of the car. As good as Nora looked, I think she will prove to be just a stepping stone for Barney.
So, the wedding where Ted's meets the mother turns out to be Barney's. We were lead to believe that it will be Nora he marries in the future, but I still think he ends up with Robin. The look on her face when Barney flirted with Norah said it all. 
I loved the self righteous Brooklyn guy who claimed Trader Joe's had made his beloved borough, and then offered to sell Barney and Robin weed to boot. Yet another classic New York stereotype well depicted. 
Oh, Ted you got me with the random blonde and the orchid. Reminiscent of Eddie Murphy's Ice Cream Man line from Delirious. Wanna lick? Psych! That was cruel, son. 
But what a way to end a very emotional season with the news that Lily was pregnant. All the emotional turmoil this season, like Marshall and Barney's dads among other things, were worth it to get to this moment. I loved seeing Marshall peppering his beloveds face with gentle kisses. 
A fitting close to the season. As the episode ended, I was certainly left wanting more. I very much am looking forward to what the future holds for the entire gang in 2011-2012.
Until next season, one final thought: What will Marshall and Lily name their child? If it's a boy, will they name him after his late grandfather or steal Ted's Star Wars idea? If it's a girl, I'm sure Barney will weigh in on what names will condemn her to a life working on the stripper pole.
Until then, have a great summer and keep checking in with TV Fanatic for teasers and clues to the upcoming season.