Although last week felt like a season finale, this episode of Nikita provided closure, as well as plenty of open-ended storylines with which to begin the sophomore season. Let's all cross our fingers like Birkhoff and hope one actually arrives!
Now, let's break down "Pandora" character by character ...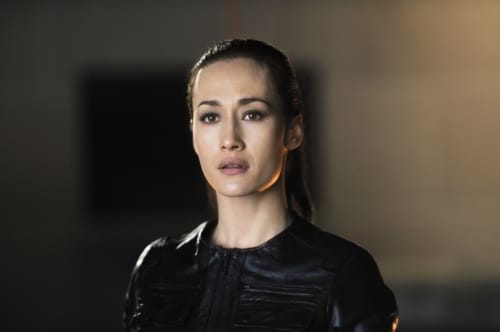 Nikita managed to save the day and take off with Michael after Rome flushed her system of the toxin Alex injected to make her appear dead.
Her main mission in "Pandora" was to keep the CIA from cracking "operation sparrow," which would then leave everyone in the room dead. However, she saved Fletcher, who she promised to bail out of prison for the injuring the guard and compromising his superior.
Nikita also had to let Alex go, which was hard for her. We learned that although she neglected to follow orders, Nikita was told to make sure that Alex died, along with her family, in the tragic fire.
Alex
cut the cord from Nikita, figuratively and literally.
Her kill chip is deactivated, thanks to Amanda. Alex is now possibly joining forces with the government that funds Division, or used to. It seems Amanda is now in charge of things, as Percy was nowhere to be seen in the final scene.
Amanda promised Alex that they are both after the same person, the person who now runs her father's Zetrov dynasty.
Amanda fixed her hair before injecting Alex's heart with adrenaline to revive her. Only Amanda would do that, with a straight, voided face to boot. After deactivating her kill chip, she instructed Alex to leave Division.
She said not to run back to Nikita, but that she was free to go and Percy would be dealt with. Melinda Clarke really shined in the finale, showing emotion when she mentioned how she tried to keep Nikita inside of Division, and wouldn't do the same to Alex.
She also helped Alex see what a strong woman she was to have survived all that she had, and that she wanted to live.
Michael had the chance to kill Percy and didn't take it.
I'm still not sure what Amanda has done with Percy, but Michael not killing him gave me the same feeling as when he was denied the murder of Kasim.
That kill would have been epic, but then the bad guy would have been dead and there's no fun in that. At least he got a good black-box hit in, and how ironic is it that Percy gets slammed in the face with the one thing he's done everything to protect?
Percy decided that he wanted to run the CIA, and that he was the only person who knew how to run the country. I loved the little tidbit of him picking up his drink when he left the table of officials. He's not stupid; anyone would drug him if they had the chance.
Percy's demand to Oversight for control left him in Amanda-land, and who knows where he will end up.
Birkhoff defied Percy, and let Michael out of his holding cell without authorization. While I love Birkhoff's character for his witty one-liners and comedic relief, it was great to see his character develop and really stick up for himself.
Birkhoff also decoded the real black box for Michael, even though he knew doing so had grave consequences for everyone, himself included. He also knew that Nikita needed Michael out there, and we all know he loves Nikki.
All in all, a great season finale. The only thing missing was Devon Sawa's character, Owen. He has a lot of potential, and we can only hope to see him assist Nikita and Michael next season.
Let's all hope Nikita gets picked up for another season! Sound off on last night's finale here!