Next week, The CW is expected to officially pick up Nikita for season two. And it darn well better, based on how this week's episode left so many storylines open for the fall.
How will developments involving Alex, Percy and Amanda shape what's in store? Showrunner Craig Silverstein spoke to TV Line about the upcoming direction of his show...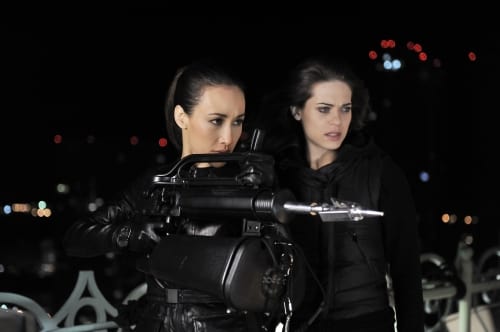 What does future hold for Percy? There's a whole journey for Percy to go on, but the plan was never for him to get killed. It was actually to put a finer point on what really happened to him...I want to put Percy through his paces; strip him down and work him back up again.
What about Division with Amanda in charge?
It will undergo a bit of a change. It might look a little more palatable at first, but that might be an illusion.
Will we see Alex going after Nikita? It's not like Alex hates Nikita and wants to kill her, but her [arrangement] with Amanda will be: You help us catch Nikita and stop this crusade that she's on, and we'll help you get back your birthright.
Silverstein also confirms that Mikita will be on the run throughout season two, and Birkhoff will "definitely be back."
What did you think of the finale?