I'm not going to lie: it was hard to concentrate on this week's episode with Amy sulking around in that hideous sweater with the turtles on it. Paging The Cosby Show's wardrobe department! In all seriousness, she had some major problems in "Loose Lips," the least of which were her attire.
The dilemma of who's at fault, Adrian or Amy, is a lot like that of the chicken and the egg. Except in this case it's not who came first, but rather who offended the other first. My answer? Neither is intentionally at fault.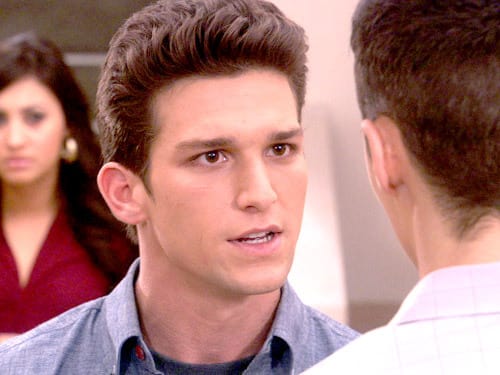 I don't think that Adrian paraded Ricky's old lovers in front Amy on purpose. I also don't think that Amy intended to rub it in Adrian's face that she has no friends. The bottom line is that if Adrian doesn't really have friends, there's a reason for that. Also, if Amy's going to get upset over her boyfriend's old lovers, then she shouldn't have chosen a boyfriend who has slept with half of the school.
However, as in real life, there's always a curveball. Did Adrian really only ask Amy to throw her a shower so she could rub it in her face that she's "won?" Adrian seems to have enrolled in the school of Sheen with this whole "winning" obsession. If this is in fact true, it's sad and pathetic. I'm glad Ricky called her on it.
I know I normally side with Amy and this week was no different. I do really wish she could just rise above Adrian's BS. Of course, she should also have a little sympathy and remember how hormonal pregnancy made her. No doubt Adrian's hormones are raging and it looks like Ben's are, too!
Amy shouldn't have agreed to throw the shower. Grace was well-intentioned in asking her to help, but Grace should have realized that maybe it wasn't the best idea. That is about as far as I will go in blaming anything on Grace. Jack needs to relax and mind his own business, the fight wasn't her fault.
My bottom line in all of this is that if you don't want to get bitten by the drama, then don't feed into it. Ricky had the right idea with everyone needing to butt out. I am a huge believer in loyalty, but that doesn't mean opening your mouth and making things worse like Ben did. When your parents needs to go to bat for you and defend you over a petty argument, that's how you know you're still a child.
I'm not really sure what Molly Ringwald's storyline with her high school boyfriend really pertained to. All I know is that when she was discussing her high school days, I was picturing her as Samantha Baker in Sixteen Candles. I also don't know what the big "secret" was that the previews were alluding to. "Loose Lips" really just meant talking smack and creating drama, but then again what else happens on TV these days?