Kumail Nanjiani has appeared on The Colbert Report, and on Portlandia, but the actor admitted to me that it was scary to step on to the set of his first starring role.
This is my first job like as a regular on a show," Nanjiani said of Franklin & Bash. "I was kind of intimidated by the big names - Breckin Meyer, Mark-Paul Gosselaar, Malcolm McDowell - and all the people who have been around for so long."
But the actor's co-stars have made it easy on Nanjiani.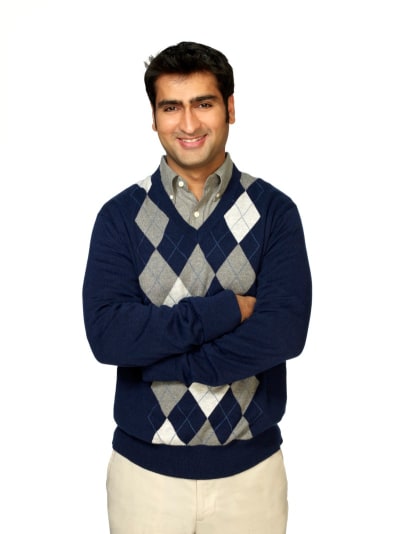 "Mark is one of the most sincere people on the planet," he says. "Breckin is so funny. So is [Reed Diamond]. He plays an antagonist on the show, but the guy is hilarious."
Nanjiani and Diamond will soon be spending a lot of time together, too, as the former teases an upcoming storyline between his character and Diamond's Damien Karp.
"Pindar is the least threatening character, and Damien is the most threatening... so it should be fun for viewers to see them work together. These two would never be friends in real life."
Pindar Singh isn't just unthreatening, of course. He also has a social anxiety disorder. Fortunately for the actor, he could call upon a couple very close sources for help with understanding this disease.
"My wife is a therapist," he said." And I have a little bit of germophobia. So I tried to extrapolate my own phobia tendencies to Pindar and his characteristics... it comes from deep insecurities of failing and succeeding. He's passionate, he wants to go out and live, but he's terrified of life."
Franklin & Bash airs a new episode on TNT Wednesday night.
Matt Richenthal is the Editor in Chief of TV Fanatic. Follow him on Twitter and on Google+.