Although last week's episode didn't hit the mark for me, Franklin & Bash came back strong here, reminding me why I believe this show has such great potential.
"Jennifer of Troy" focused on a woman who was suing her employer for firing her for being too beautiful. The twist was that Jennifer was simply an average looking girl.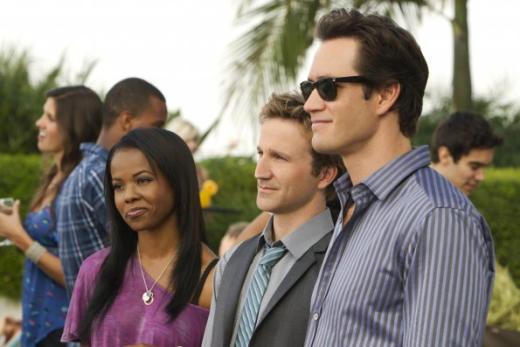 I loved the looks on Peter and Jared's faces. They were completely flummoxed by Jennifer's belief that she's prettier than the model perfect woman she with whom she. The looks they kept giving one another were hysterical. And then Damiae's quip: "Depending on the time of night, she's last call pretty."  Ouch!


When Hannah suggested they tell Jennifer that she was probably fired because she wasn't beautiful enough, they just couldn't do it. I have to admit that although it was sort of sweet, the boys ended up looking like a couple of wusses.
But the truth was that the only aphrodisiac Jennifer needed was confidence for which she was in no short supply. If you walk through this world knowing that you're beautiful other people will know it too.
The courtroom scene where Peter went so far as to kiss her on the stand was certainly silly and over the top, but it appeared a little eye contact went a long way.
As much fun as I had with Jennifer's story, I was bored with Gene's, even with the rabbit in his pants jokes. However, I loved Franklin's reaction to the eels. Really comical. And Mark-Paul Gosselaar tweeted: "That's a real moment, where we giggle as the eels brush by." No wonder it felt so real. Even better that Bash made fun of Franklin for it.
The witty banter and quick dialogue works best for Franklin & Bash. When the show allows the actor's natural charm and playfulness to come through is when I enjoy it the most. Here's to seeing more of it in the future.
C. Orlando is a TV Fanatic Staff Writer. Follow her on Twitter.