What a season finale.
With shocking deaths, transformations and cliffhangers all taking place on "Fire and Blood," TV Fanatic staff writers Carissa Pavlica, Dan Forcella and Jim Garner are here to break it all down on the latest edition of the Game of Thrones Round Table...
~~~~~~~~~~~~~~~~~~~~~~~~~~~
Name your favorite quote from the finale?
Carissa: This exchange between Joffrey and Sansa: "I'll tell you what. I'm going to give you a present. After I raise my armies, and kill your traitor brother, I'll give you his head as well."
"Or maybe he'll give me yours."
Dan: "You look lovely tonight, Lady Stark. Widowhood becomes you. Your bed must be lonely, is that why you came? I'm not at my best, but I think I could be of service. Here, slip out of that gown and we'll see if I'm up to it." - Jaime
Jim: "You'll have an easier time drinking from that cup than you will bringing Robb Stark to the table now. He's winning, in case you haven't noticed. - Tyrion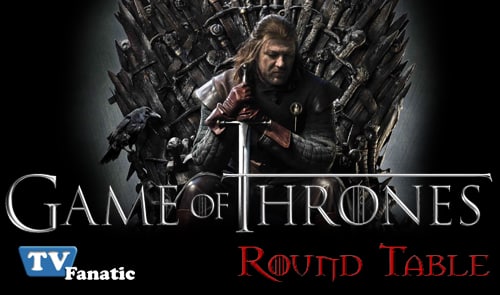 Besides his junk beneath his thin nightie, what else is Maester Pycelle hiding?
Carissa: Well, that he's not decrepit, for one thing. He's obviously listening and planning something, but I don't know what it is. He can be added to the queue of old farts I don't like. 
Dan: He is also sleeping with Cersei (see below).
Jim: As Eric said last week, I can only reply with this.
Cersei is sleeping with yet another Lannister!? Who isn't that woman sleeping with!?
Carissa
: Her dad and Tyrion seem to be the only ones not privy to her vagenda. They are lucky bastards, aren't they?
Dan: Apparently not Pycelle, as the ridiculous rumor I answered question two with explains. Let us just hope that Joffrey is one of the lone male Lannisters that is free from her clutches (the Wizard thought he was taking things too far?).
Jim: Anyone not related to her, apparently. How is it that Joffrey doesn't have three eyes or 12 fingers??? Calling her slutty would not be fair since she clearly is just keeping it in the family!
Which sneaky councilman are you betting on, Varys or Littlefinger?
Carissa: Her dad and Tyrion seem to be the only ones not privy to her vagenda. They are lucky bastards, aren't they?
Dan: Always Littlefinger. Not only has he made the right moves, but he's done so in such dramatic ways that he seems like the perfect man to keep in your corner.
Jim: The one with balls.... literally. Littlefinger was smart enough to betray Ned without him seeing it coming, right?
The Night's Watch rides, Tyrion becoming hand of the king, Arya heading off with the black, Robb being declared King of the north, and Dany hatching the first dragons in years. Which plot line are you most excited for next season!?
Carissa: No doubt I am excited to see what they do with those cute little dragons. Dany is just the ultimate cool fantasy chick and when they showed her with the dragons crawling all over her, I just wanted MORE!
Dan: While I would love to say Tyrion because he never ceases to entertain me, the Night's Watch riding brings the most intrigue. North of the Wall?  I can't get more excited!
Jim: Tyrion and Shae, they make such a cute couple, I can't wait to see how she does in court and here is hoping for "the hand" to be across Joffrey's ass!
BONUS: Since they both actually apply, rate the finale on the DUS/HGN scales!
Carissa: DUS is a 3 for being spoken of more than once and two views. Even Shaggy Dog (not quite befitting his name, as he was no friendly pup) had a great part to play. I love Ghost being part of the Night's Watch. His roles is as important as Jon's now. Looking forward to see what a direwolf looks like as an adult.
Gratuitous nudity a plenty: 4. Grossest scene goes to the old fart. We NEVER need to see that again; second in the category goes to Roz washing herself as that just lead to knowing what had just happened (ewwww) and best usage goes to Daenerys for going into a fire a lost, clothed woman and coming out, burn free and the mother of dragons. Bravo!
Dan: I abstain.
Jim: DUS: Four.. Two points for seeing Ghost and Shaggy Dog, and two points for the mention of Rob's wolf taking down 20 men and horses. HGN: Two. +4 points for Dany naked with dragons on her, but -2 points for having to watch Pycelle's junk flop around as he stretched.