Troian Bellisario may wear sharp clothes in every scene of Pretty Little Liars, but she surprised us on a conference call Friday. Turns out, the actresses don't get to keep any of their attire.
"I go home in pajamas everyday," the actress laughed, saying the wardrobe department insists on keeping all items in case they need to re-use them later.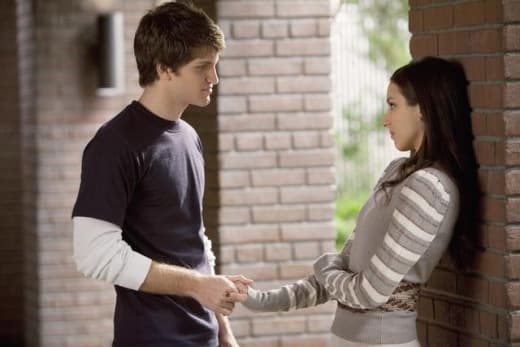 As for storylines on the show, Bellisario addressed the two relationships most pressing for her character: the one with Toby and the one with Melissa.
How has Spencer's evolution helped her date Toby?
"I think Spencer, because of the family that she grew up with, has a very strong and black and white sense of what is right and what is wrong and she sometimes thinks that she can control other people," Bellisario said, adding:
"She's learned to kind of just be supportive of her friends and not let that get in the way of their friendship... I think her biggest lesson in that was her relationship with Toby. She really ran the gamut as far as thinking that he was the one who killed Alison; he was the one who might be involved with A; and he was their mortal enemy; and now there is nobody she holds closer than her friends and Toby."
That is quite the path, no doubt.
Regarding her ever-changing relationship with Melissa, the actress says she can see understand Spencer's sister's point of view. Wouldn't you get angry, too, if someone accused your fiance of being a murderer?
"I totally understand where Melissa is coming from. This is the father of her child. This is the man that she saw herself being connected to for the rest of her life. To hear the possibility that he could have killed somebody in the past and attempted to kill her sister - there is almost a safety and finality in his being dead."
To get an idea of what's to come, browse through our Pretty Little Liars spoilers section now!
Matt Richenthal is the Editor in Chief of TV Fanatic. Follow him on Twitter and on Google+.