Diana took center stage as an undercover assistant to one of journalism's sharpest-tongued, no-nonsense writers in "Deadline," and her secretarial skills weren't the only talents on display.
Marsha Thomason's accent made its single appearance of the series, hopefully to only become a more frequently used asset. I loved this undercover angle and would like to see it more often. Diana herself is a bit of an underused asset, isn't she? Last time she went undercover was with Jones during an adoption scam in season two.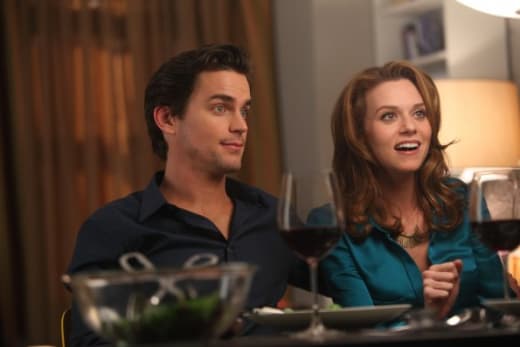 We also met Diana's girlfriend, Christie, for the first time. I have to say, they worked. Besides, who didn't love getting a glimpse into her life and her stylish apartment?
In fact, all of White Collar's women shined this episode, especially Hilarie Burton's Sara Ellis, who has been notably absent despite her promotion to series regular. Similarly, Elizabeth,  truly reliable person in all situations, certainly continued to be just that via her last-minute party for Helen's son, Charlie.
Can I say how much I loved Sara and Neal this episode?
Even if their relationship doesn't end up a long-term situation, they were fun while it lasted. Their interaction highlighted some of the fundamental differences between them that are so often forgotten. Neal steals things and Sara gets them back. They are on opposing sides, yet somehow they complement one another in a way that's just so much fun to watch and absorb. Their attempt to engage in normal conversation, without reference to security systems or classic cons, was difficult but endearing.
Other highlights from the episode included:
Peter's FDA cover and glasses; they were about as cute as the mustache he sported in the early 2000s.
Diana's introduction to Helen, with her gun raised at the would-be assassin, plus Helen's plea to get Diana on her team in the following days.
I also appreciated the rare moment between Agent Jones and Elizabeth where he confessed he'd like to be a cowboy for his next birthday.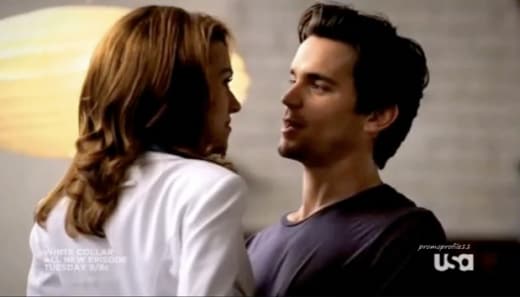 I still have to reiterate how difficult it is to enjoy these moments when you know that Neal and Peter are actually at odds with each other in a passive aggressive way, one that is likely to boil over and draw battle lines at some point down the road, most likely sooner than later.
The best we can do is watch and wait, which this reviewer will certainly be doing next week when we get a look into Mozzie's mostly hidden past. What interesting tidbits and insights into this eccentric character are to be uncovered next Tuesday? Watch and return afterward for a detailed review!
C. Charles is a TV Fanatic Staff Writer. Follow her on Twitter.