His personality cup definitely runneth over.
Mozzie is a man of many names and faces, and we got a taste of another one of them in the "Dentist of Detroit." Attempting to raise money for the group home in which he grew up, Mozzie unknowingly put himself the sights of a Detroit mobster looking to run a con on the Irish mob.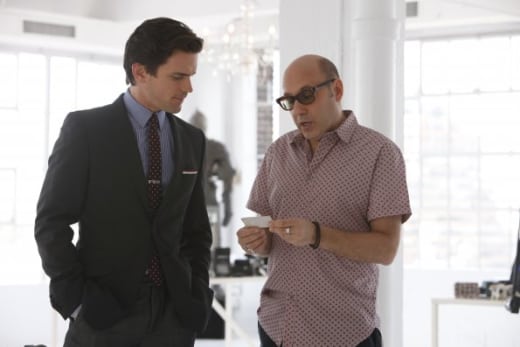 It's striking that White Collar continues to hit nerves of sentimentality in every episode, despite the fact Neal and Mozzie are so set on leaving the lives they've built and maintained for themselves in New York over the past two seasons.
This is interesting to me because if Neal and Mozzie are so sure about leaving, I'm hard-pressed to believe they wouldn't have gone and done it already. Art smuggling issues aside, I think Mozzie and Neal are, subconsciously, beginning to
maybe
reconsider their options.
If Mozzie wasn't as unsentimental as he preaches to be, he certainly would have changed his name to something other than the name he gave to his childhood companion.
I loved learning about Mozzie this episode. He was a complete genius as a child, and no doubt Mr. Jeffries was a prime influence in that. The reunion between the two was short-lived, and I would have liked to have seen more of it. Their quote-off was priceless.
This episode was White gold and sure to be a favorite for many fans, including this one. It highlighted just how integral Mozzie's skills and personality are to Neal and to the whole unit. If they all didn't love him, they sure wouldn't have gone to such lengths to help him. The cantalope con to get himself out of the hotel room was priceless, just one of the many moments that made this episode great.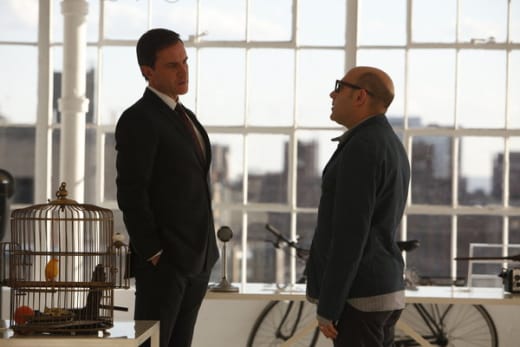 Other highlights:
Learning that when Mozzie was young, he couldn't pronounce his prized bear's name, Mozart, and called him "Mozzie" instead.
The large rimmed glasses and rings of Mozzie's youth remaining a constant fixture in his life and style.
Peter undercover.
The faux fight between Peter and Neal to make a scene.
Elizabeth taking a photo of Neal and Peter in their tuxes like the proud mom of teenage boys going to Prom.
Neal and Peter preventing a mob war.
Elizabeth revealing two scandalous run-ins with the law.
On a sidenote, for those of you who watched live, didn't you love the adoption PSA starring the full cast of the show? Who didn't enjoy the cameo by Garson's real-life adopted son? It was definitely a welcome addition to the hour.
On another note, who is looking forward to next week's episode when Peter goes undercover solo? I know I can't wait!
C. Charles is a TV Fanatic Staff Writer. Follow her on Twitter.