First, have to say I loved the new intro. The art gallery was a nice touch, and who could forget the addition of Hilarie Burton to the opener, signifying her upgrade to series regular.
But I also have to say that her upgrade has seemingly yielded an ironic effect: we didn't see her at all on "Where There's a Will," much to my disappointment. It didn't have to be a romantic encounter, but if they could use Mozzie, Elizabeth and even Satchmo in the course of the case, it seems they could have squeezed Sara into the script somewhere.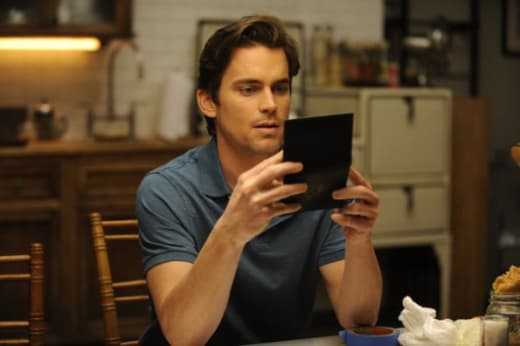 On another note, I loved the use of the Tycho Brahe mythology that drove the episode. It was unique and fun without being taking over the storytelling. The dissolving manuscript was pretty intense and clever, and when Mozzie quickly turned to blame Satchmo, I couldn't help but laugh.
The use of the planetarium, the Gemini constellation in particular, also made for an interesting addition. The likelihood of that ever happening again is minimal, and rightly so. The random appearance of the sexton and mirror trick on the sundial was so nerdy I have to give the writers props for weaving it in.
I was surprised how quickly the brotherly feud became secondary to the bigger plot about the kidnapping and the little girl, who even Peter seemed to bond with, if only briefly. It added all these elements to the episode that made it compelling throughout.
However, I would have liked to know what was in the will. I couldn't help but think - given the line "nothing left between you" - that perhaps Nathaniel Rowland had actually left all his assets to Savannah so that neither brother would have the fortune, but both would have an interest, for Savannah's sake, in making sure it stayed in the family. I did appreciate, though, that the Brahe manuscripts in the planetarium weren't the only surviving set.
With regard to the ongoing investigation into the U-boat treasure, it seems that Peter has called in some experts to look into it. I continue to be bothered by Neal's willingness to exploit her in order to find out what Peter is up to. He now knows there's a manifest and that at least 22 paintings are tagged if their fenced, which would lead Peter straight to him. The temptation has been heightened now that Neal can keep a virtual eye on the stash from his laptop 24/7. Do you think Neal got Mozzie in time to keep him from fencing the Degas?
Anyone else  have the itch to complete a treasure hunt? I know I do!
C. Charles is a TV Fanatic Staff Writer. Follow her on Twitter.