Unlike last week's action-packed thriller, "Around the Sun" was a bit on the lighter side, but just as entertaining as ever. In case you are like Jai and didn't know this about Annie Walker, she was a space geek!
Annie seems to have a wide variety of hobbies, but her love of space exploration made this week's NASA-based mission that much more interesting for her. What made it more difficult was that she no longer had her right hand, Auggie Anderson.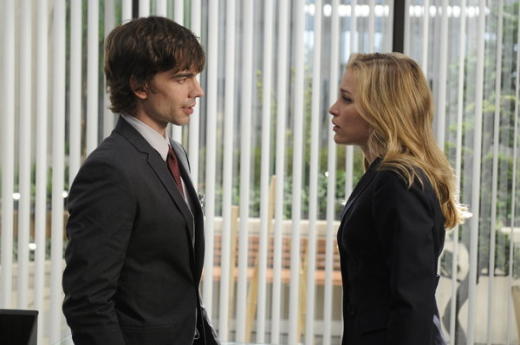 Yes, that's right, Auggie took the overt job with the OCA. We learned early on that he accepted the position without consulting Annie. The question then becomes: what was that phone call about at the end of last week? Just a misdirect? Or was there something lost between scripts?
We'll get back to Auggie later because we need to talk about what other effects his absences had on Annie. Not only did she not have her best friend helping her out, but his replacement was not the easiest to work with.
Reva was a nice addition. Almost running Annie over in the parking lot, stealing her spot in line for coffee, and then taking Auggie's place on the team gave us quite the impression in her first 30 minutes on the scene. Reva seemed like she was going to be difficult to work with, which would have been much more interesting, but after Joan reamed her out, she became much nicer and more effective.
But now that Auggie is back in the fold, it seems like she is heading back to whatever research lab she came from. I was hoping she could have stuck around so that she could attempt to foil more of Annie's work. Our protagonist has it too easy as of late. We need some more inner-conflict for this girl.
Who knows? Maybe they will find a way to keep Reva around. She could be just interesting enough to demand a permanent spot on the series.
So, back to Auggie. He was antsy from the beginning in his new position, but bombing his first assignment for Arthur did not help things. Sure, Annie's pep talk gave him the confidence he needed to bang out that make up assignment, but it wasn't enough to keep him away from covert affairs.
It was a nice little trip away from the usual for Auggie, but I would have preferred him to take more than one episode to make his way back into the fold. There is no need to bring things back to the status quo so quickly. Keeping things at that point can make a show too comfortable. It was a nice, brief change up; I just wish it had been a three episode move.
Like I noted at the top, "Around the Sun" was much less an action adventure, and much more a character study, thanks to the great work of Mark Moses. The benefit of having great actors guest star, of course, is that they are great actors. The negative is that they are usually known for being great actors and they stick out like a sore thumb amongst extras.
As soon as I saw Moses' face during those NASA interviews, I knew he was the one they were looking for. It takes a bit of the surprise out of the equation, but it was worth it for how good Moses was at playing this space nut and wonderful father.
Watching the story unfold, which led to the aforementioned fatherly love, prompted Annie to show some love of her own. The episode ended with an extremely warm moment, as Annie skipped out of the bar to babysit her nieces. It is moments such as these that give Annie Walker so much charm. Yes, she is bad ass, but she is also very sweet.
It was a slower paced hour, but I still really enjoyed "Around the Sun." What did you think? Are you happy to see Auggie back with his team?
Dan Forcella is a TV Fanatic Staff Writer. Follow him on Twitter.