Project Runway opened season 9 in New York City with Heidi Klum, Michael Kors,, Nina Garcia and Tim Gunn all back to cut 20 designers down to the 16. 
Thankfully, "Come As You Are" flew through the top 20 fairly quickly, as I always find these drawn out pre-show antics a bit painful. Being sent home just as they saw the brass ring were: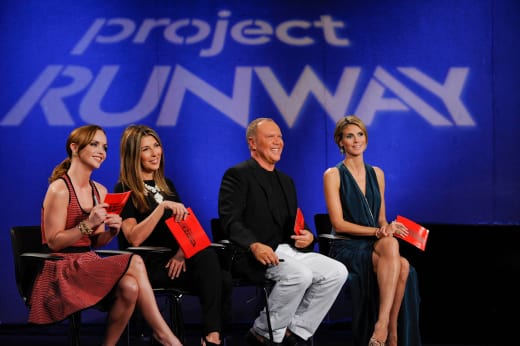 - David Chum, 29 from Boston, MA.  He was inspired by cocoons, but was sent back to waiting tables.
- Gunnar Deatherage, 21 from Louisville, KY.  The judges weren't impressed with his Derby gala creations.
- Amanda Perna, 26 from NYC, who I simply nicknamed "romper girl."
- Serena Da Conceicao, 31 from Brooklyn, NY. Serena postponed her wedding to be on the show. Ouch. That's got to hurt.
As for the top 16?
At 5 a.m., Tim Gunn barged into their bedrooms to inform our sleepy designers that they needed to get up and follow him, as is. No changing clothes, fixing hair or putting on makeup. I don't think they even used the bathroom.
The next thing we know, our designers were grabbing a sheet and tromping through Times Square in their PJs. Ah, the adventure begins.
There first challenge was to design an outfit using only their sheet and what they wore to bed last night. Uh-oh. For some this was quite a challenge.
I honestly expected Anya to be the first to go. She only learned how to sew four months ago. Heidi had faith in her, but I was with Tim. It sounded like a recipe for disaster.
Add to that how she's never dyed cloth before, never sewn silk, and never made pants, all of which she decided to attempt with this challenge. So I was thinking this girl was a goner.
Wow. I couldn't have been more wrong. Her pants were perfect. "Let's just focus on the butt,"  Heidi exclaimed. Yup. Looked darn good. Who is this girl? She must be some kind of sewing phenom. Tim and I were definitely wrong about this former Miss Universe contestant.
I never would have guessed that Anthony's striped black lace top was originally his yellow striped t-shirt. Who knew a color blind man could have such a great eye.
Elsewhere, Bert has the most interesting back story. He worked for some top designers in the 1980s but bowed out of the industry when several close friends died of AIDS. He used alcohol to cope but has been sober for three years.
As the oldest contestant, you can bet many of these young kids were writing him off. Not so fast. Bert turned a pair of boxers into one heck of a gorgeous little dress.
The bottom three all had the same issues: fit, or more specifically, the lack of it.
Rafael's tight, sweatpant-like pants were completely unflattering and his shirt was compared to a Flintstones-esque bib. Of Julie's outfit, Heidi said that "the whole thing is just bad." Nothing seemed to work with her strange pajama pants material.
And Josh's shorts had more serious issues with fit. In other words, they did not. Heidi lamented that she couldnt decide who is worse, Rafael or Josh.
In the end... Bert wins! Thank goodness. I'd buy that dress. It was lovely and I love when the judges and I agree.
And who was out? Rafael. They weren't sure Rafael understood there was even a problem with his outfit, as they referred it to as "fashion backwards." I'm happy he's gone because that strange fuzzy beard of his was freaking me out.
So we're down to 15 designers and a whole season of challenges ahead.  Here's to looking forward to more creative hits and disastrous designer misses on this seasons's Project Runway.
C. Orlando is a TV Fanatic Staff Writer. Follow her on Twitter.