Anyone up for a dance?
"Veiled Threat" had Peter and Neal maintaining a rather delicate balance between their work and their personal lives, as they went undercover as wealthy bachelors to nail a black widow, bringing all the fun and conning that makes this show a summer hit.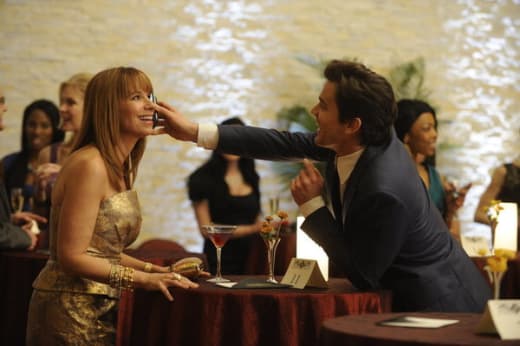 Besides, who doesn't enjoy seeing Peter go undercover in this kind of capacity? I also loved watching Neal completely throw his dates, and with a genuine Texan accent no less! (Matt Bomer is from Texas)
Thank goodness Diana went in on the bid, or else Neal really would have suffered a severe blow to his ego. Yet I contend if Sara had been there, she would have probably bid on him pretty high considering how cozy they were throughout the episode.
But perhaps the best moments of the house were those when Peter had to ask permission from Elizabeth to participate, sending a normally very composed Mrs. Suit to a place of well-played and genuine jealousy. Their re-marriage to each other was a nice resolution to their very tense few days. Besides, who didn't love the decorations in Neal's apartment? Talk about ambiance...
I liked very much that Jones seemed to get a little bit of play when he went undercover. The $11,000 bid on him wasn't too shabby, either, next to the black widow's $15,000 bid on Peter.
Tim Dekay also deserves some serious credit for that tango he executed. Wonder how many lessons it took to get him dancing with such skills.
Overall, props to everyone on the excellent work here. It was a lot of fun, as the set designs and locations were great, only adding to each scene.
Is it next Tuesday yet?
C. Charles is a TV Fanatic Staff Writer. Follow her on Twitter.