Finally! It has been a long time coming for Annie's guilt to take center stage on Covert Affairs.
During "Sad Professor," Danielle became increasingly more suspicious about her sister's crazy work habits, while Annie seemed to finally come to grips with the idea of telling her sweet sister the truth.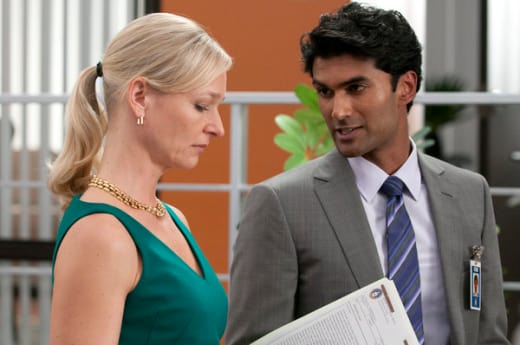 Whether it was Danielle's early suspicion and car chase with the super spy shades on, or her inability to get through to anyone at the Smithsonian about needing to find "ANN-NEE WALK-ERRR," Anne Dudek was terrific this week.
And in a nice bit of storytelling, the Covert Affairs team did a wonderful job coming up with an A plot that would nicely coincide with Danielle's suspicions. The parallels between Annie's relationship to her sister, and Professor Mark to his wife Safia, were enough to make Annie seriously think about telling Danielle the truth about her occupation.
Safia was absolutely torn apart when Annie told her that her husband was in the CIA. Annie saw, in that moment, what her sister might feel if she ever found out. The look on Piper Perabo's face, and the gasp she let out after Annie showed Safia the safe deposit box, was nothing short of superb.
Did Auggie explaining to Annie that eventually he told his brother about his position at the CIA convince her to tell Danielle? The final moments of "Sad Professor" made it seem that way, but we will won't know for sure until next week's summer finale... and maybe not even then.
As great as Christopher Gorham was in "Half A World Away," he really is in his element in an episode such as this. Scenes in which Auggie gets to give Danielle excuses for Annie by describing their jobs at the Smithsonian almost exactly the way he would describe a position in the CIA are both brilliant and hilarious.
While the longer running story of Annie and her sister progressed nicely, the episodic plot was just as interesting. There were a couple of twists and turns, as Annie had to console the grieving wife... then the wife became the culprit... then Annie got her to help solve the case.
Arthur got to give a heartfelt speech about only 103 CIA agents having been killed in action, Jai got to go on a mission with an attractive young woman in her underwear, and Joan made a big decision to bring Professor Mark's killers to justice.
With only one episode left for the summer, there aren't really any loose ends to tie up, so I'm assuming things will be left with somewhat of a cliff hanger. What are you expecting from next week's summer finale?
Dan Forcella is a TV Fanatic Staff Writer. Follow him on Twitter.