While there have been a couple of major bright spots, this season of Curb Your Enthusiasm has been a bit of a disappointment. This was never more obvious than with "The Bi-Sexual," maybe one of my least favorite episodes of Curb ever.
Larry failed to get into a single argument that was in need of analysis, there were very few laughable moments, and the attempt to tie the ending into the rest of the story was foolish.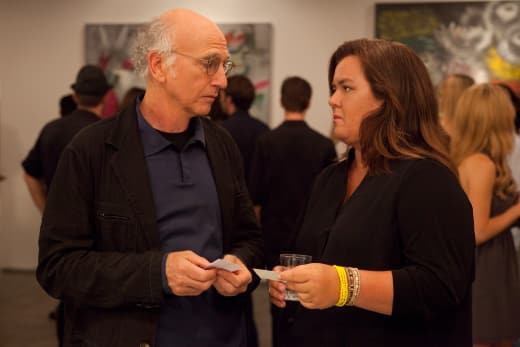 Worst of all, though, was the fact that the entire episode was basically a forum to compare Viagra and sex to PEDs and baseball. It was so obvious that it became less and less funny every time a new joke was used, which was non-stop over the course of the half hour.
The fact that the entire thing was happening at the same time that Larry, Jeff and Rosie were playing softball? That just made it seem even more contrived.
Other than the Japanese tourist calling out the Japanese restaurant owner for his "shit bow," the only thing that saved this episode was the man, the myth, the legend... Leon Black.
Between him showing up in NYC in Larry's beat up car, the fact that he took in a roommate at Larry's house in L.A., announcing to New York that he was there, and having a croissant filled with mother effing champagne, Leon was his usual hilarious self.
I'm certainly glad that Leon has made his way to the Big Apple, but will it be enough to save the season as we head down the home stretch? There are only three episodes to go. Let's hope they're less like this one and more like "Palestinian Chicken."
As always, here are some of our favorite quotes from "The Bi-Sexual." Don't forget to check out all the best one-liners at our Curb Your Enthusiasm quotes page.
Rosie: You know what a lesbian brings on a second date? A U-Haul. | permalink
Larry: Tie goes to the hetero. | permalink
Larry: Lesbians have kind of an advantage in a way.
Leon: They some tricky mother f**kers. | permalink
Leon: I'm livin' large. I just had a croissant filled with mother f**king champagne. | permalink
Dan Forcella is a TV Fanatic Staff Writer. Follow him on Twitter.