Grey's Anatomy Spoiler: New Chief of Surgery Named!
Steve Marsi at .
There's a new Chief of Surgery running the show in Seattle.
April surprised many by winning the coveted role of chief resident this spring. Now, another big shakeup will depose Richard when Grey's Anatomy returns to ABC.
James Pickens, Jr., will remain a regular cast member on the show, but for the second time in as many years, the man known as the Chief will no longer be so.
So who will replace him this time?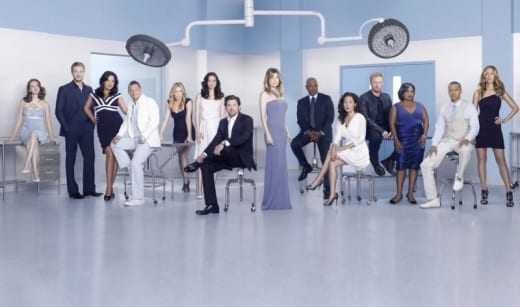 He or she is "as surprised as anybody else about this" and also "nervous about it," says the cast member in question, speaking on the set of the show.
Follow the jump to find out who it is ...
"He's a man of action, really, and the head of trauma surgery - that's what he knows. Suddenly, he's in a more administrative position. I think the way he deals with that is going to be very interesting," says
Kevin McKidd
of
Owen
's promotion.
Surprised?
Richard opts to step down "because of what's happening with Adele [and her Alzheimer's] and what happened with Meredith" and Derek's tainted drug trial.
But, according to McKidd, whereas Webber's previous demotion was involuntary and met with animus toward Derek, he's "made his peace with it" here.
That doesn't mean it's going to be easy for Owen.
"People give him a hard time," McKidd tells TV Line of his new role. "It's not going to be easy for Owen being the chief in the aftermath of Richard Webber."
The situation, clearly, is "complicated, because these doctors and surgeons have huge egos, and they don't like administrative change," McKidd says.
As an actor, however, he anticipates "a fun ride" as Owen "tries to really shake things up and bring things up to the 21st century in the hospital."
How will Cristina react, personally and professionally, to her husband's change of status? Will this help or hurt Meredith's status at the hospital?
Weigh in on this and other hot topics from Grey's Anatomy Season 8, which kicks off with a two-hour episode September 22, in the comments below!
Steve Marsi is the Managing Editor of TV Fanatic. Follow him on Google+ or email him here.