Hank treated a little boy and his babysitter. Paige called Hank for help with her mother. Evan finally discovered the truth. One thing was for certain on Royal Pains this week:
"Me First" was an emotionally charged episode.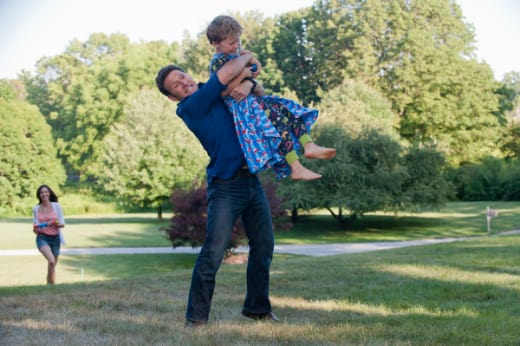 There are few images that make my list of unforgettables. But when Evan proceeded to smash the windshield of Hank's convertible, I nearly croaked. We've never seen the mild-mannered CFO of HankMed act out in a more uncharacteristic way.
He should have stuck to pastry golfing. I know he put a distinct effort into making them, but it was pretty funny to see the goodies lined up on the green as he chucked them into eternity... or at least partly down the driveway.
I was relieved to see that the medical emergency Paige has tended to throughout this season was her mother and not some hidden pregnancy. While I think it's tragic that her mother suffers from such severe bouts of depression, I couldn't imagine what Paige was dealing with, and it was starting to bug me.
She really should have told Evan. He knows how to keep a secret. I don't think she should have been concerned with the health of the campaign over the health of her relationship.
Paige really is a good girl. She went above and beyond planning and managing her father's fundraiser. It is a lot of pressure to be perceived as perfect, and it was important for her to recognize that even her imperfections are something with which Evan is willing to deal. I think it's more than just dealing, I think it's his love. That's something we can all get behind.
In the meantime, I enjoyed seeing Hank interact with Simon. He really has a way with children. It was especially cute when he played super villain. I hope to see him as a super dad in the future. But I have no problem waiting on that.
I also have no problem waiting on Divya to enter into any new, potentially romantic, relationships. Van Dyke doesn't appear to be her type at all. Does that make him a perfect match for Divya? He's attractive, seems fun, but he's definitely awkward.
Next week is the summer finale. Looks like it's going to be another intense one. If nothing else, we know the drama surrounding Paige's mom didn't end tonight. We can only wonder what impact it will have on the future of Evan and Paige, and possibly for HankMed.
C. Charles is a TV Fanatic Staff Writer. Follow her on Twitter.