"A Little Death" went a very long way on The Big C this week, as the Showtime series tackled a number of serious topics: funeral, burial plots, virginity, rear end tattoos.
They all contributed to an especially sweet and sentimental episode that brought out the humanity on Rebecca, the fatherly side of Sean and the humorous, vindictive side of Cathy.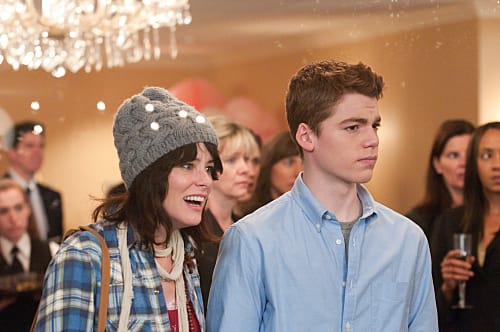 I'm gonna miss Cynthia Nixon. She's been a tremendous addition to the cast, walking the line perfectly between grating and loving, as Rebecca is a self-centered character who could easily come across as a one-dimensional bitch... but who clearly does care about Cathy and Sean.
She also cared a lot about her unborn child, as it was clear she'd break down at some point during the funeral. Heck, I almost did as well, following that great speech by Cathy.
Consider how far this main character has come. Last season, she reacted to her cancer with reckless abandon, spending money, having an affair, keeping secrets from her family. Now? She wants to embrace life, she's closer than ever to Paul and Sean and she summed it all up perfectly with her motto:
Don't delay the happy.
Once again this week, The Big C didn't overplay its hand when it came to such areas as death and sex. It would be easy for the show to go over-the-top in its attempt to lighten the mood around these topics, or to go the opposite way and grow too dark for viewers to enjoy. But that's why I loved Cathy's speech to Andrea about losing her virginity:
Keep the expectations low, make sure he respects you. Be responsible. That really is all one can say on the matter, isn't it? Cathy forgot to mention that the back of a van might be a bit uncomfortable, though.
Other highlights from a solid episode:
Parker Posey as Poppy. Seriously, does anyone not adore this actress?!?
Paul trying to block Cathy's path to "rugby slut."
Cathy's subsequent speech to "rugby slut."
The constant use of the nickname "rugby slut."
Everything about Myk. His accent cracks me up and I'm glad the series didn't take the easy route of just making him some bad guy who breaks Andrea's heart. So, he steals a bit from a big company. Paul does, too, now. But it's all in the name of love.
It can be said every week, but John Benjamin Hickey as Sean. An Emmy should be in his future.
Matt Richenthal is the Editor in Chief of TV Fanatic. Follow him on Twitter and on Google+.