Are you here to make me feel guilty because I got off to a man other than my husband? - Cathy to Marlene
Can't exactly say I saw that final scene coming (pun... intended!). But leave it to Laura Linney to make masturbation into an emotional climax (pun... you get the idea...). Impressively, "Goldilocks and the Bear" combined the goofy (Paul in a "bear" bar) with the raunchy and still managed to make a sentimental impression.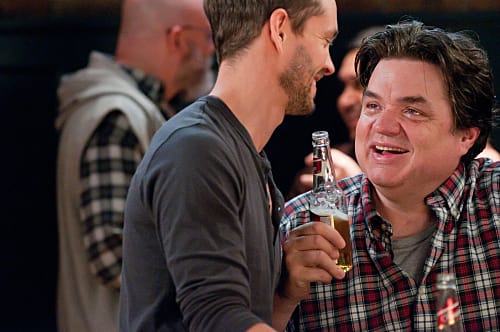 I very much agree with Cathy's dismissal of the cliched term "soulmate," but there clearly is a connection between her and Lee. It makes perfect sense. As great as Paul has been once he learned the truth about his wife, he'll never be able to relate to her on this level.
Does that make it okay for Cathy to touch herself to the sounds of Lee's voice? No. But it does give us another glimpse into the lives of the terminally ill. At a time when one ought to be bonding more than ever with one's family, it can't be easy to know those family members don't truly understand what's going on.
Elsewhere, do you wanna tell Andrea that her new guy is totally stealing from his store? Neither do I. This may be a young woman wants to hear the truth at all times, but crushing her dating dreams may be a tad worse than telling her she has salad all up in her grill.
Finally. I've said it almost every week, but I'm digging the new, medicated Sean. He has retained some of his old edge, but he sees things clearly now and is actually a role model for Adam. Great advice he passed along this episode.
A solid outing all around, with plenty of one-liners to keep me entertained. To wit:
Cathy: It's always best to start with sweet and save hoochie for desert. | permalink
Lee: You're actually my type, Paul.
Paul: Well I'm glad this didn't just get awkward. | permalink
Lee: We're not soulmates. We're mole mates. | permalink
Cathy: Soulmate. Not only is it a cliche, it's the reasons millions of women are sitting at home and single. | permalink
Matt Richenthal is the Editor in Chief of TV Fanatic. Follow him on Twitter and on Google+.