That's it. I'm totally in love with Claudia. Watching her and Steve in the Civil War Reenactment on "Queen for a Day" had me laughing constantly.
From the Laverne & Shirley running gag to Claudia's Damsel-in-Distress-Princess-looking outfit, I was hoping the hour wouldn't end. Steve and Claudia have undeniable chemistry and it was an absolute joy to watch.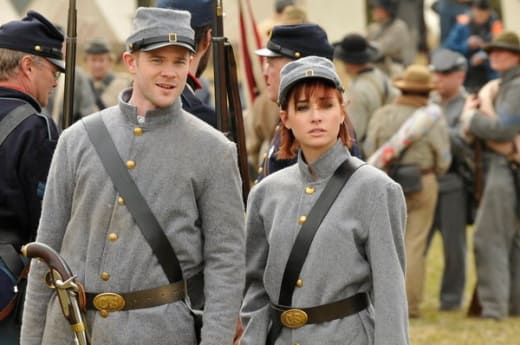 I only wish the comedy could have lasted a little longer. But when the laughter stopped, it allowed us to get a sneak peek into Steve's mysterious past. We learned a lot more about his sister.

I know I've said this before, but watching him open up to Claudia about his sister and what she was like before she died from a stray bullet really felt like Jack and Jen from
Dawson's Creek
.
It's the classic example of two people from different pasts and walks of life who form a lifelong bond and affection for one another. I'm a total sucker for these stories and I can't wait to see where it goes. It's something Artie sees, too, as he looked on smiling at his agents.

Speaking of pasts, we got a small glimpse into Pete's: He was married. I was looking for more from Amanda, hoping she would reveal more than what we was offered about Pete and his background. Unfortunately, what we mostly got was more of the same with Pete's alcoholism.

But I can't discount that completely because it did open up a little bit more about Pete. He was ashamed of who he was back then. He wasn't sure where he wanted to go in life, he rushed into a marriage, and he was an alcoholic trying to sink those feelings. Most people would want to keep that past buried.
Those feelings also tied back to Pete and his abandonment issues. If he couldn't make it with Amanda and she left him, what's to say he can do his part to make it work a second time?
However, Amanda did say she made plenty of her own mistakes. He's a very different man now than he was back then. He's found a place where he belongs, instead of drinking in isolation. He has a job that he loves and knows where he wants to go in life. He's built a surrogate family that he just didn't have before. Maybe now that Pete has finally finished making all of his amends for his past he can finally move on with someone.

"Queen for a Day" continued Warehouse 13's stellar storytelling this season. Plus, there were Top Gun references. How awesome was that?!?