I made a startling discovery last night: we're two-thirds of the way through this season of Weeds.
It doesn't feel that way, does it? Not a lot has really happened; at least not a lot that really make sense or that has captivated by interest. But the concluding scene of "Synthetics" teased how everything will be coming together over the next few weeks, in a most unsettling way for Nancy.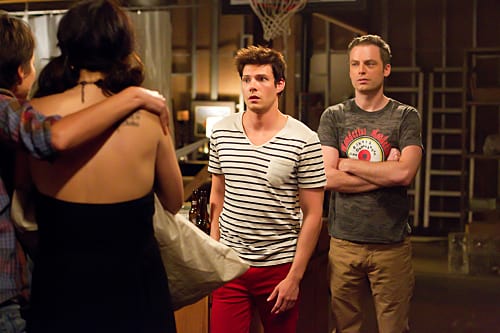 While Zoya and her family rattled on, it was a hoot to simply see Nancy at a loss of words for a change. The same could be said for Aidan Quinn's... Foster? Chuck? Whatever he wants us to call him, I'm guessing he didn't expect to walk into this world after finally snagging a date with Doug's hot secretary, a woman who apparently bruises easily from the sucking of one's lips.
Seriously, what grown woman gets a hickey?
One that sleeps with a pair of siblings in a matter of hours, I guess.
I really wanna say the best scene of the episode took place when the Nancy was put in her place by the halfway house woman ("You're a lifer."), but does anyone believe it will change Nancy's behavior in any way? This drug-dealing, irresponsible mother knows who she is and doesn't care. That's fine and all, but it can make for a frustrating TV series. Nancy hasn't evolved in any way since we first met her.
And that's unfortunate because the Weeds I want to watch deals with Nancy's past, it doesn't give us yet another example of Nancy getting herself in way too deep. (Seriously, why are all these people in her apartment? Talking so openly about their trade with each other and in front of a stranger in a suit? It felt like a forced way to bring everyone in Nancy's life together.)
Meanwhile, Shane is a murderer now, but he's still in touch with his sensitive side. Solid advice he offered his random detective pal, and you just know the writers were high-fiving one another after using the "suburbs" line.
Outside of Andy lamenting his use of the word "Silly-opolis," not many laughs this week. Just a lot of Mary-Louise Parker naked and I truly never thought I'd complain about that. But it's the same thing we've seen a hundred times - Nancy using sex to further her shady ambitions - and, even if Nancy is not, I'm ready for change. Let's hope that concluding scene, of worlds hilariously colliding, delivers it.
Matt Richenthal is the Editor in Chief of TV Fanatic. Follow him on Twitter and on Google+.