Thanks to Mark not letting part two of "Heart of Darkness" go without a Round Table, the loyal Archer fan came up with his own questions this week.  So join guest host Mark and the usual round table panelists as we discuss a cartoon.
What was your favorite Archer joke from last night?  
Dr. Toboggan: Archer after firing an entire round into the radio "I told you I'm not going anywhere, especially not back to ISIS and especially not now that I shot what I assume is the only radio??"
Mark F: "Noah, I'm half drunk and slathered in every bodily fluid there is... so yeah... this is about as Pirate Kingy as I'm going to get so brief away... Noah... Good Morning."
Eric H: "Wooo!"  The entire morale problem scene.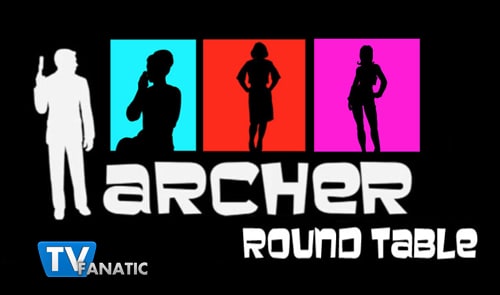 If "Morale" was Item 1, "Getting Paid" was Item 2, and "Back-up Radio" was Item 5... What were Items 3 and 4?
Mark F: 
Item 3: More native girls
Item 4: More alcohol 
Dr. Toboggan: I would agree Mark, but it was Noah's list so assume at least one the items had to do with finally getting that guy some shoes and the other one was probably something lame although I can hope it was something good like more women or booze.
Eric H: Right, I mean this was Noah as secretary, so obviously way too functional like:
Item 3: Legalize gay pirate marriage.
Item 4: Order Lacrosse Intramural Finals Trophy with bust of Archer.
Are idioms really that integral to our language? 
Dr. Toboggan: Idioms no.  But most of Archer's comments were just repeating movie and tv lines which is extremely integral to at least my language.
Mark F: Take a knee and lend me your ears... while every dog does have its day it does seem that in the end the tortoise does usually beat the hare while the ant survives the winter and the grasshopper freezes. That is all.
Eric H: Laying it on a little thick there, Mark?  Crap, I guess they are.
Lana and Ray's rescue attempt. Planned or Organic?
Dr. Toboggan: I think it was planned.  With Archer gone, Ray is doing his best to spend money and not care about the mission a la Archer, but unfortunately he isn't Archer and now Dutchess has to step in and save the day.
Mark F: Organic. After seeing how Archer always succeeds his missions with a complete lack of knowledge Ray and Lana probably felt they should try that strategy for a change. Also $5,000 was a steal and they could always sell the boat at a loss.
Eric H: Who cares?  All I know is I want on the next rescue mission.  That Ray knows how to travel!  
What's with the backward Pirates?
Dr. Toboggan: I had no issues with the gun fight.  What type of pirate law allows for a surrogate to step in a fight for you?  Archer had no choice but to shoot the guy in the kneecap.
Mark F: While the gender roles and radio labeling wasn't stereotypical I would argue it was a plan to trick escapees and despot Kings which worked perfectly. However, this time the King and escapee were Archer and Rip. And clearly Archer fought fairly. The codex did not say anything about no guns and all the bullets in the radio were center-mass 10pt circle.
Eric H: Backwards my ass!  Those guys are progressive! Did you not meet Bucky and his girlfriend?
Eric Hochberger is the programmer of TV Fanatic, so please forgive his mediocre writing. His programming is far better. Follow him on Twitter and/or email him. Just don't request threaded comments. They're coming.