This season's HP challenge quickly turned into a nightmare for one team. As our designers were broken up into two squads of five, they had to create their own fabric, design a cohesive collection, and even produce a video to go with it.
With all of that, what could've possibly gone wrong?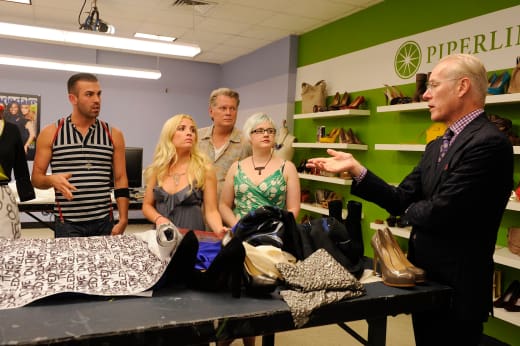 From the beginning, one team came together while the other fell apart. Team Nuts & Bolts was a disaster from the word go, which should have surprised... no one. It consisted of Bert, Josh M, Laura, Kimberly, and Becky. Add Bert and Josh M to any unit and there's going to be trouble.
Bert was actually somewhat well behaved. It was Josh M who fell off the deep end. With his late mother's birthday looming, he became hyper sensitive and his bad attitude affected everyone. Laura tried to rein him in but the damage was already done.  Add to it that their clock inspired print was terribly boring and this team's name should have been Chaos. There were simply too many nuts and not enough bolts holding them together.
Things got so bad that when Tim came to visit he made them hold hands in some kind of a cross between a prayer circle and the singing of cumbaya. 
Over at Team Chaos, it was anything but. We had Oliver, Bryce, Anya, Viktor, and Anthony. This was the dream team, where everyone got along and group hugs were the order of the day. Their ink spot-themed print truly was inspired and even their video looked cool.
In the end, it was no shock when Team Chaos won. The funny part was when the judges asked the designers to pick a winner and almost everyone picked themselves. No egos here. Bryce chose Anyam which was nice considering his look was the weakest of the group.
The judges loved Oliver's jacket. I personally wanted Viktor's evening gown. It was stunning, but the win went to Anya with her short print dress.
On the losing end, Team Nuts & Bolts wasn't pretty. Nina said all three prints were horrible and Michael thought the runway looked like a hooker convention just let out. Ouch. 
Josh M was called out for his bad attitude as both Bert and Becky threw him under the bus, not that he didn't deserve it. But the designer sent home was Becky, basically for not designing. Earlier Laura thought Becky's outfit looked like it belonged on a vacuuming Judy Jetson. Unfortunately for Becky, the judges didn't disagree.
C. Orlando is a TV Fanatic Staff Writer. Follow her on Twitter.