What's that sound? Oh yes, I believe it's all Sandy fans around the world cheering. Rookie Blue sent my little shipper heart beating wildly, as the show finally went there.
Bucking the trend of most prime time programs that insist on keeping their leads apart for as long as possible, "A Little Faith" gave fans what they craved and, damn, I couldn't be happier.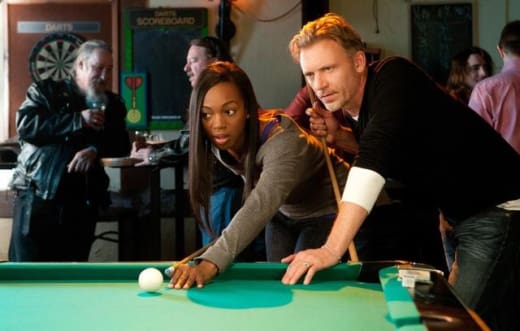 But let's get some other story points out of the way first. 
Did anyone else think that Chris was being a little too hard on Gail? Yes, she got close to his best friend, but Dov was the one professing his love, not Gail. Chris' Goldilocks bed hopping comment was over the top. I've never believed that Chris and Gail would survive long term, but Chris dumping her over this seemed a bit harsh and unfair.
Then, it was game on as Andy, Traci and Dov were sent out on an undercover training field trip. No phone, no money, no ID. Who could make it back the next morning with the most cash and drugs?
I figured Dov could win this one and he didn't disappoint. As Shaw said, deep down Dov was so insecure I knew he'd go above and beyond to win. I never thought he'd use his late brother's drug history to steal from his dealer, but I give him extra points for being both creative and ruthless.
Traci and Andy were so entertaining as they came up with their undercover personas. Only McNally would decide to be an insurance overwriter. The girl picked one of the most boring jobs on earth and couldn't even get the term right.
Traci completely sold her pool shark/stripper act but her and Andy's girl-on-girl kissing needed some work. Then again, as lame as it looked, it still seemed to distract the guys - so mission accomplished.
As disappointed as I was in Andy when she told the dealer they had to call an ambulance (what dealer wants an ambulance at his place?), I loved how badass Traci was when she made up the story about the girl's biker boyfriend. Looks like undercover work might end up in Traci's future. That girl can think on her feet.
I was happy just to see the look on Sam's face when he saw Andy. Then when Andy went back and propositioned him and he sent her away, I thought we'd be playing the almost but not quite there yet game again.
Thankfully, I couldn't have been more wrong. Not only was the love scene incredibly hot, the aftermath was funny and sexy and everything I expected from Sandy. 
Sam even shared that his chosen undercover persona was Ernie the zamboni driver. Oh my God, I couldn't stop laughing. I think that one only works in Canada. Sam and Andy went from hot and sexy to cute and funny, and right back to hot and sexy again. Sigh. All I can say is that I want more. A lot more.
Of course, with Sam undercover, that gives the show a plausible reason to keep them apart for a while longer and ramp up the danger and the angst. But tonight's love scene will sustain me for a while - and can you imagine how great their reunion will be?
Did it all live up to your expectations for everyone else:
Don't forget that ABC will air the last two episodes of the season back to back next week. You won't want to miss it.
C. Orlando is a TV Fanatic Staff Writer. Follow her on Twitter.