Royal Pains delivered a solid summer finale in which Divya balanced her double life and Hank treated two patients, including Paige's mom. Let's go over "A Little Art, A Little Science," shall we?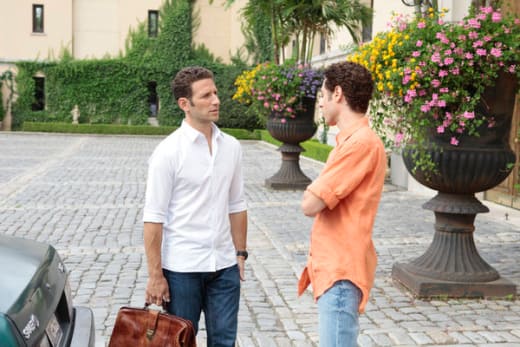 For starters: Who expected that ending? Not this vieweer. Wow.
It never occurred to me that Divya wasn't only endangering herself by pulling double duty, but also her patients. No doubt if Divya wasn't sleep deprived she wouldn't have prescribed steroids to Eric.
Divya said early on in this episode that secrets were sometimes necessary. But when it comes to a decision that not only affects her, but also their clients, Divya's double life shouldn't have been the secret kept. She should have told Hank from the very beginning, as this isn't the first time Divya has attempted to play a clever balancing act.
She's certainly doing a great job in her quest to be independent and pay back Raj's family, but the costs of that endeavor are higher than she could have realized. One thing is for certain: this incident will have repercussions. Unfortunately, we'll have to wait until this winter to learn them.
On different front, Hank procured another treatment option for Paige's mom. This one appeared to have a positive affect. Heck, even her apprehensive husband finally came around.
What frustrates me about the situation is that Paige's dad was more worried about his campaign than his wife's health. It affected my depression level watching them struggle to find a solution.
I have really enjoyed getting to witness more interaction between the Lawsons and the Collins this summer. Brooke D'Orsay's Paige is moving closer and closer to becoming a series regular. Besides, the Collins add another dimension to the show, just as the Eddie R. storyline did earlier on this season.
Wish we would have gotten to meet who Jill considered her replacement, who was mentioned briefly during the episode. Which reminds me: What is Jill still doing hanging around?!?
This was one of the plot points buried in this earlier part of the season, so far down that I almost forgot it was taking place. I hoped that she would decide she had a reason to stay early on, whether because of Hank, or her passion for Hampton's Heritage. Unfortunately, neither one of these reasons has been cited by Jill herself as a reason to stay.
Lucky for us, Royal Pains resumes making house calls this winter, and we may finally get our answers to these burning questions and more.
What did you think of the finale  What consequences lie ahead for Divya? Will General Collins finally accept that his wife is suffering?
C. Charles is a TV Fanatic Staff Writer. Follow her on Twitter.