Did Alicia and Will really do a bad, bad thing?
The Good Wife seemed to be implying that on last night's third season premiere, opening the episode with this Chris Isaak classic and concluding it with Alicia looking into the mirror, unsure about opening the door for another naked deposition with her boss.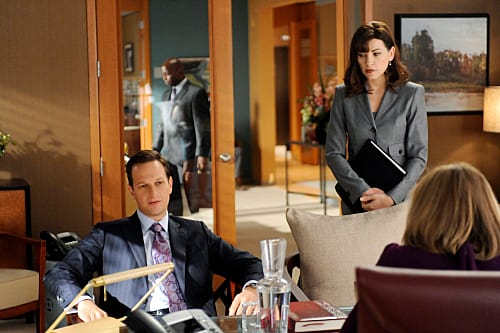 But there needn't be any shame on Alicia's end. Peter cheated on her multiple times, she was only giving the marriage a chance last year because it felt like the right thing to do and, as Grace pointed out here, she simply wasn't happy. It's not helping anyone for Alicia to pretend like she's in a strong, loving relationship.
Granted, this is a tricky situation. I just don't want to see the show drag out Will and Alicia's dalliance for very long. We can only deal with so many secretive looks or quiet moments of reflection. Alicia is in a good mood, she is not living with her husband the sex is clearly hot*... just come out in the open and enjoy it, people!
One serious note of complaint: Having Will enter Alicia's office because he wanted to talk about their night together, and then cutting away from that scene and only showing Alicia's reaction, was a very cheap move. That's manipulative storytelling, not strong storytelling.
Elsewhere on the season premiere, we were told numerous times that it was a "new day." This may have been the case at the State's Attorney's office, but, fortunately, it didn't apply to the same fast-paced, mature nature of the show to which fans have grown accustomed.
Is there any other series on television that could handle the topic of Israel/Palestinian relations in such an even-handed manner? Most shows wouldn't even go near the topic. But The Good Wife dove right in, using the centuries-long feud as a way to fully incorporate Eli into the firm. And I think we can all agree that the more Eli, the better. He really feels like our son of a bitch, doesn't he?
The sensitivity of this religious conflict for Eli also highlighted what The Good Wife does best: blur the personal with the professional. It should be fascinating to watch Peter oppose Alicia in court all season, either directly or through Cary. Similarly, there's the obvious line crossing between Will and Alicia, as well as the sexual tension that drips from every Cary and Kalinda scene.
So, yes, Diane to answer your question: You are pretty much the only emotionless adult at the office these days.
This wasn't the strongest premiere, as I do fear the show will create unnecessary tension between Will and Alicia over the next few weeks and, despite the riveting overarching issue of Jews versus Muslims, the case itself was pretty boring. But this remains the best drama on network television. Sorry, NFL. You've lost your top spot on my Sunday night viewing schedule.
* REALLY hot.
Matt Richenthal is the Editor in Chief of TV Fanatic. Follow him on Twitter and on Google+.