A crazy surgery? Check. Extended family showing up? Check. Emotional stress? Check.
It's pretty clear that Grey's Anatomy has stepped its game back up and is on a roll with Season 8. From Zola being admitted to the penis transplant, "Love, Loss and Legacy" brought the show's A game. So sit back and relax; time to dig in.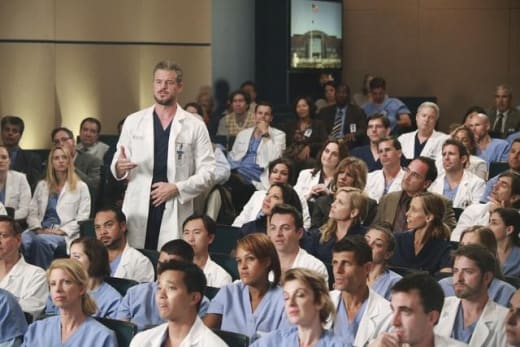 Catherine Jackson. Well, well. It is nice to meet the lady who produced the man with the gorgeous eyes. Debbie Allen stepped in front of the camera to guest star as Jackson's mother. The sometimes GA director made quite the appearance, bringing with her a penis transplant and her meddling ways. Jackson was sweet to send Lexie away while his mother came to town (of course we know this is because Chyler Leigh is taking some time off) but how great would it have been to see Momma Avery go toe to toe with Little Grey? Lexie's blink and you miss it appearance had me so blindsided I almost missed the few lines she said. Although, I was able to admire her hot haircut. Seriously, girl is rocking those bangs.
Baby Girl Zola. MerDer's daughter Zola was admitted for a bowel obstruction and stirred up plenty of feelings for the docs. Alex did the right thing by his friend by telling Meredith and Derek that their girl was in the building. Great performance by Ellen Pompeo with her emotional breakdown. Even though I am not the biggest fan of the show's golden couple having the baby, this episode may have changed my mind. Here is hoping that things can be worked out for the family.
Who else noticed Owen's reaction watching Cristina with Zola? She was great with her, but this is just a reminder to Owen that this is not in their future. Will he be able to stick around for the long haul?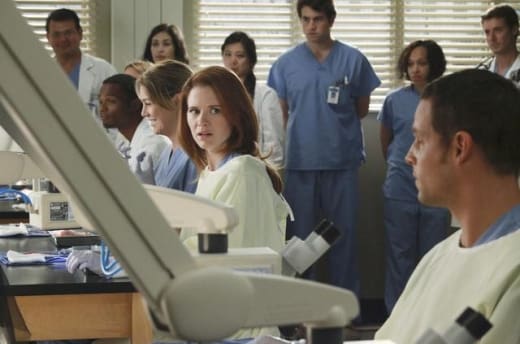 McDreamy? More like McJerk. TV Fanatics have been coming out in force that Derek is no longer the guy we all fell in love with and Meredith should leave him. I have been hoping he would come around, but even I have to admit, his attitude is getting old. Derek admitted to not being able to forgive Meredith to Owen. He needs to get it together before us viewers are unable to forgive him. First step forward? Singing to Zola over the phone. Loved it.
Relationship Drama. So Jackson admits (sort of) that he is love with Lexie. Within one visit, Catherine was able to pick up on Sloan's feelings... so is Jackson oblivious or just pretending to be? Bailey broke up with Nurse Eli and Ben is still waiting for her. What's a girl to do??
Sloan has really come around for Jackson. Icing on the cake? Slapping him on the butt when sending him into competition.
Who else predicted the winner of the competition to scrub in? Meredith is a natural and Jackson is the Gunther.
Bailey - time to forgive Meredith. Or at least let her in on your trial so we can enjoy some funny scenes between the two of you.
Anyone else feel that Callie is being underused these season so far?
Really loved the nods to the old Grey's Anatomy. We had the boys talking in the staircase (Hello! Haven't seen this part of the hospital since Burke was around!) Meredith and Derek had an elevator scene (instantly "How To Save A Life" played in my head) - and people went back to Joe's Bar!! The locale has definitely been missed and needs to come back in a big way.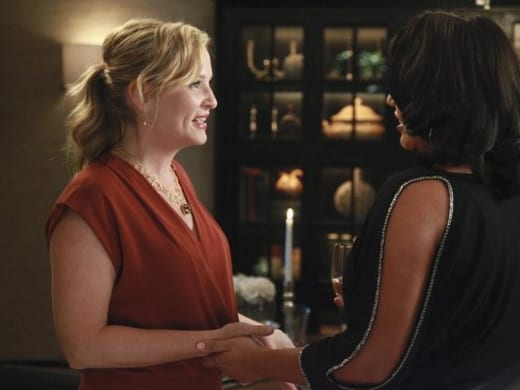 Overall, a pretty solid episode. What did you think, TV Fanatics? Is Derek's ways getting old? Do you want to see more of Catherine? How about that penis transplant? Sound off below and let us know what you thought of "Love, Loss, & Legacy." And remember to see what next week's installment
is all about
and then check back for the Grey's Anatomy Round Table. Until next week...