Bad outcomes. There risk looms over all of us, but what happens when you grow fearful? For Cristina, it means getting booted off a spinal surgery.
The latest installment of Grey's Anatomy, "Poker Face," featured all the residents outside of their comfort zone. So sit down and get ready to dig in to the latest adventures at Seattle Grace.
Oh, Oh, Owen. Cristina and Owen avoided talking by hooking up. All over the hospital. Conference rooms, on call rooms, dirty texts during surgery. They had it all going on, even in front of Webber. Poor Richard. Not once, but twice, did he catch his replacement getting it on. At least it was hot and dirty, you know, stand on your head type of sex.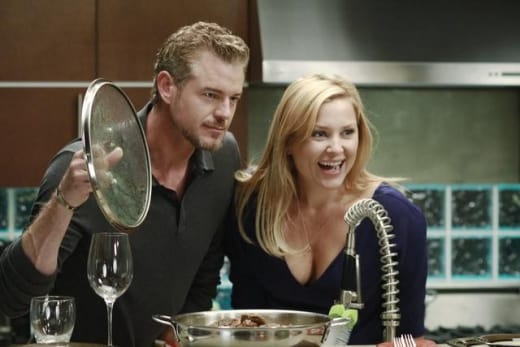 No Neuro = Happy Marriage. So it looks as though the "not working together/not talking about work" idea is working out for Mer and Der. This is the couple fans have spent the last eight seasons rooting for and loving. I could not have been more pumped to see the two of them back to themselves. Meredith knows her man. She sent Lexie with the scans and Derek realized how great he had it when Mer was on his service. Hopefully these two can get their work lives back together enough they can each practice neuro. Girl is a genius and she deserves to work in the field she wants to.
How cute did Meredith look in her baby pink scrubs? Even if she was an embarrassment to her friends, she just proved it was another field at which she excelled. 
Who else has been waiting for the run in between Mer and Bailey? Miranda ripped in to Mer for helping on the trial, and from the looks of things, that tension is going to spill over to next week.
Case Load. Two cases were front and center on "Poker Face." Callie worked with Cristina to rebuild a neck and Derek and Lexie operated on one of Mer's new mothers for a tumor. Both were pretty great. I didn't realize it until this episode, but I do miss the Callie/Cris time. These two are pretty funny together and are both bad asses. Let's team these two up together more often. You hear that, Shonda?
The butterfly tumor was one of the most emotional and satisfying cases in recent episodes. They Grey's formula is back to its original version and boy does it work.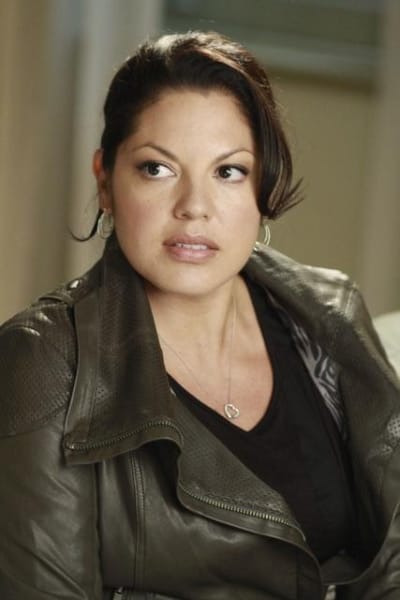 Kepner. Push over. Chief Resident. April finally stood her ground against the other residents and let them know who is boss. Loved the deeper, trying-not-to-be annoying, voice. Karev nailed it when he let loose on her in the hospital. 
The Callie/Arizona/Sloan relationship has taken a backseat so far this season, but that doesn't stop them from bringing the funny. They say be careful what you wish for, don't they? Callie's wife and baby daddy as cooking buddies is hilarious. For those of you McSteamy lovers, make sure to check out the latest spoilers. Looks like our boy might not be lonely too much longer.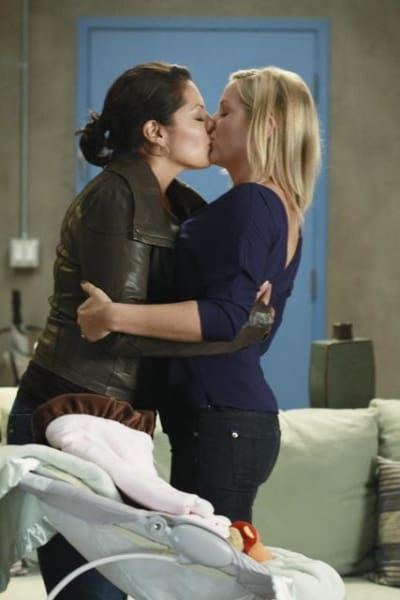 Joe's Makes a Quick Appearance...Again! The docs are back to their old ways and for some, that means ending the night at Joe's Bar. Who else is with me in wanting this to happen way more often?
Overall, another solid episode from Grey's. What did you think, TV Fanatics? Did you miss Jackson or not even notice he wasn't around? Are you glad Mer and Der are getting along again? Sound off below, don't forget to check back for the official Grey's Anatomy Round Table and get an early look at next Thursday's episode HERE.