Welcome to our weekly Grey's Anatomy Round Table!
Our official Grey's Anatomy review broke down Thursda's episode, "Put Me In, Coach," in detail. Now, TV Fanatic staff writers Courtney Morrison, Sean McKenna and Christina Tran have gathered for a Round Table Q&A to further debate, discuss and dissect the goings on at Seattle Grace/Mercy West:
----------------------------------------
What was your favorite scene/quote from the episode?

Courtney: My favorite scenes definitely consisted of Meredith and Cristina playing and drinking in the outfield. Favorite quote has to go to Teddy though: "You have to go back to the beginning to understand the end." That's what the show has been doing this season, getting back to the basics and it is absolutely paying off.
Sean: Aside from Derek wearing his Bowdoin gear (my hometown represent, what what!), it would have to be Lexie throwing the softball at Sloan's new love interest. That girl can throw.
Christina: I loved all of the Surgeons in the Outfield scenes. Best quote, though, was Lexie's: "I thought she was stealing second!" The only thing that was safe was Lil Grey's green eyes and killer arm.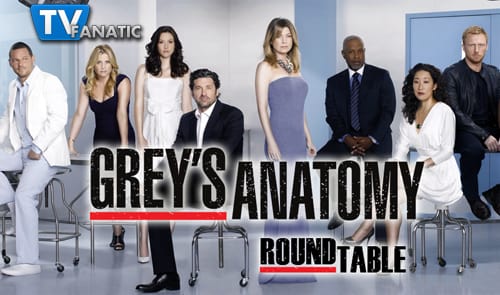 2. Derek's patient underwent a risky first time surgery. If it was you, would you take the risk?

Courtney: It would really depend on the situation. If I was the patient that Derek had in this episode, then yes. They said she would never be able to get better so it's worth the shot. Besides, anytime Derek is faced with an extreme challenge he always pulls through. Aren't TV doctors the best?
Sean: Well, Derek has a pretty good track record, so if it was him conducting the surgery, I'd be more inclined to. Sometimes the greater the risk, the greater the reward.
Christina: Me? No way. I'm simply not McDreamy and only slightly color outside of the lines. Derek, on the other hand, is passionate and pulls off miracles by taking risks. I always love his medical cases.
3. Who is the most bad ass surgeon at Seattle Grace - Derek, Cristina, or Callie?

Courtney: Given the chance to vote for Cristina in anything, she is usually my choice. But this time, I have to go with Callie. She doesn't often get the coolest or life saving surgeries but the ones she does get are awesome. I mean, you saw it. She rebuilt that guy's smashed hand! Remember the girl from one of the earlier seasons who was bent over all the time and Callie fixed her? She's done some insane stuff. She may be a bone breaker but she is definitely an artist.
Sean: Is this a popularity contest? Callie certainly knocked it out of the park with the smashed hand, but pretty much every surgeon at Seattle Grace has his or her own style of bad ass-ness.
Christina: Tough question because it's all relative ... it just depends on the day, case, challenges, etc. If I had to choose though based on the previous episode alone, I'd go with Callie, the artist. She has always been able to connect with her patients and is purely awesome. Heck, she rebuilt a smashed hand. That was so cool and amazing.
4. Has Alex redeemed himself for selling out Meredith?

Courtney: Meredith has forgiven him so it looks that way. The best part about him going down to the family court is that he didn't tell anyone. He wasn't doing it to get back in everyone's good graces. He was doing it because he believes Zola belongs with Derek and Meredith. He is a great peds doctor and that is where he belongs. In my world, Alex redeemed himself when Zola was taken away and he was the one to comfort Mer.
Sean: Meredith doesn't know what Alex did and I'm glad that he didn't jump up to tell her either. That wouldn't spell redemption, just a chance to get off the guilt train. He may be abrasive and arrogant, but the guy has a heart and he's willing to go above and beyond. In my eyes, he's on the fast track back.
Christina: Definitely! I loved that he took matters into his own hands and pulled out all of the stops for the McFamily. Even better, he worked selflessly and silently showing he was trying to make amends with Mer.
5. The love triangle is back. What do you want to happen between Mark, Lexie, and Jackson?

Courtney: First, let me say that Little Grey is the luckiest girl on the show. She has the two hottest guys in love with her. Okay, so she makes a better fit with Sloan. They do have better chemistry, despite their age gap. You don't see the sparks between Lexie and Jackson, although he is probably the better guy for her. I would like Mark play the field for a bit now that he's back in the game, but not with the eye doctor. End game - Mark and Lexie. 
Sean: I'm kind of surprised how googly eyed and jealous Lexie was towards Sloan. I thought things were good with her and Jackson. It almost seemed too quick too soon and frankly, not fair to Jackson at all. He even recently left viewers with the notion that he loves her. Now, it's hard to see their relationship headed in a positive direction anymore. So is it really a love triangle?
Christina: I've been shipping Slexie since day one. Goodbye, Jaxie.
What do you think? Share your responses in the comments below!