The latest episode of Grey's Anatomy was anything but a strike out. It was a nice, light hour - following a few heavy episodes - and moved things forward for our favorite docs. So grab your glove and get ready to discuss "Put Me In, Coach."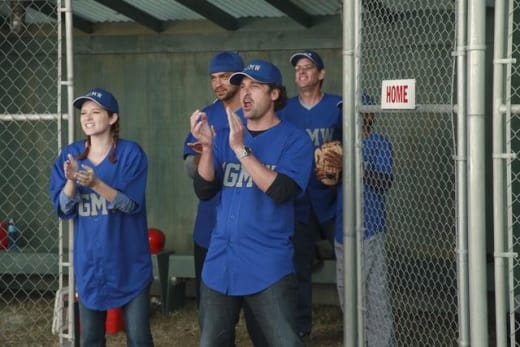 You're My Person. Meredith and Cristina stole the scenes with their BFF fun and I loved every second of it. From the start of them laying in the outfield to them getting drunk in the middle of the game, these two were the picture of what a best friends should be. Plus, we really haven't seen them that wasted together since the parties that used to go down at the Grey house. Classic Meredith and Cristina.
Kudos to Sandra Oh once again. She can bring the serious, the drama, the tension. But she can definitely show up the rest with her insane smile and laugh. The girl is awesome. Case closed.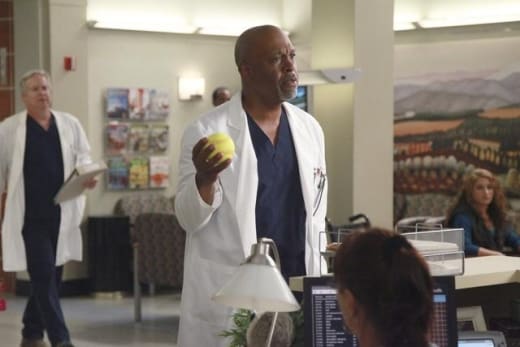 The Big Game. The best part of the episode stemmed from the surgeons attempting to play softball together. The only thing that could have made this better was more time. dedicated to it. Teddy's terrible pitching, Bailey and Mer having a blow out in the field, and Chief Webber calling time outs were just small pieces of a great puzzle. The game led to some important things that we must discuss:
The Bailey/Meredith blow out. This has been awhile coming. Bailey is rightfully mad at Meredith, but these two work best on the same side. Webber is right, Meredith has clearly made mistakes but it is not Bailey's job to rub them in. Time to move forward. Either way, they are both incredible doctors who can do better... together. Bailey has been seriously miserable lately and it was time Meredith stood up to her. 
I didn't think these actors could look any better in a uniform than they do in their scrubs. I was clearly mistaken. Who else is with me in thinking that Henry and Avery should wear a hat and uniform every episode?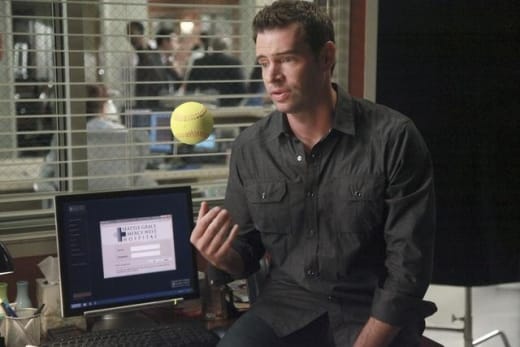 Speaking of Avery... Things came to a head for the hot doc love triangle with Jackson noticing Lexie being bothered by Sloan and his new girlfriend. The writers must have been paying attention by giving this man a new love interest, but where did she come from? All of a sudden Mark has a new girl from Seattle Pres and Lexie isn't having it. Little Grey has a serious arm, and chucked that ball at the eye doc. Funniest part of the hour, hands down.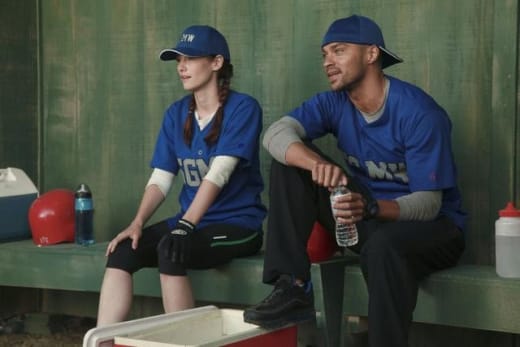 Alex, The Silent Saver. Word got to Alex that the courts want Lola's medical records to transfer her. Taking matters into his own hands, he went looking to the family courts to get some answers and took no credit for the court date Mer and Der will be getting. He took a big risk going to the judge. Is he now a great friend or just a bigger idiot? The cases were pretty great, too: Derek pulled off another miracle and Callie proved once again how awesome she is.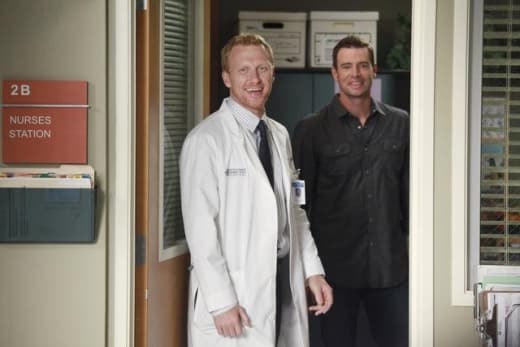 Overall, an instant classic
Grey's
episode. Anyone with me in thinking the softball game should become annual? Do you prefer the funny or did you miss the drama? Without a doubt, we are in for some heaviness next week, based
on this preview
. Sound off and let us know what you thought of and don't forget to check back for the weekly
Grey's Anatomy
Round Table.