Homeland is the best new show of the year, and its pilot was definitely one of the best season premieres of the fall. 
Anchored by stunning lead performances from Claire Danes and Damian Lewis, this CIA-based Showtime series has everything you could ask for and more in regards to interesting characters, intriguing story lines, and edge-of-your seat suspense.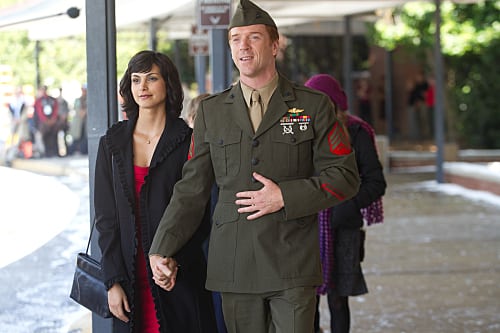 The most intriguing characters, of course, come courtesy of the performances from Danes and Lewis. The former plays Carrie Anderson, a fantastic CIA agent, who causes herself more trouble than anyone would like to admit. The latter is Sergeant Nicholas Brody, a former American Prisoner of War returning home, who seems to have been turned by terrorist leader Abu Nazir during his time abroad.
Danes is so good in this first episode at revealing to the audience who Carrie is, without letting go all of the character's secrets. She seems to be pretty brilliant. She is definitely a little crazy. But most of all, she sure is dedicated to her work, which will most likely be the driving force of the series as things move forward.
Lewis, on the other hand, has the difficult task of playing a character in a way so that the audience won't have a definitive answer on what to think of him. Brody has returned home after being a POW for almost a decade, and while it seems he has turned, that doesn't change the way he felt for his wife and family. I'm hoping the man continues to be as torn on a personal level as I assume he is as soon as he comes home.
The number of intriguing stories that there were in the pilot made for nary a boring moment, and create many avenues for the series to move forward with. Of course there is the gigantic "A" plot of Brody turning, and Carrie's ability to figure out all of what is going on, but then you have Brody's personal struggle, Jessica's affair with Mike, and Carrie's psychotic behavior.
Jessica is another one of the extremely interesting characters that jumps off the screen immediately. Morena Baccarin is tremendous in the premiere at playing the wife of Brody. As much as she was one of the lone bright spots of ABC's V, it's so refreshing to see her playing a regular character with some humanity.
In the premiere, it's almost as if Baccarin took all of the emotion that she wasn't allowed to portray as an alien for the past two years, and let it all out on the screen for Homeland. Her Jessica loves her husband, but was about ready to tell her kids that she and Brody's friend Mike were together and going to move in together. She's in an extremely tough spot, albeit a spot we have seen before on television, but Baccarin plays it so well, and with such fiery emotion, that I'm excited to see how it plays out.
If the rest of the season plays out as well as the series premiere did, I have no doubt I will be on the edge of my seat throughout the run. Attempting to figure out what the heck is going on in Brody's mind, trying to understand Carrie's crazy personality, wondering what will happen with Jessica and the kids, and waiting on Brody's contact to reach out to him had me concerned for everyone involved every single second that went by.
The lone concern would have to be wondering where this series goes after one season. You have to assume that this gets resolved after 12 episodes, and if it doesn't, things might start to get boring. Does the series follow Carrie onto another mission after that? I'm not sure, but I'm definitely willing to go along for the ride to find out.
Homeland is off to the best start of any new fall show, and I can't wait to see what happens next. What about you? What did you think of the Homeland series premiere?
Dan Forcella is a TV Fanatic Staff Writer. Follow him on Twitter.