Percy is one clever dude, way too clever for his own good. He may not be in charge of Division anymore, but in "343 Walnut Lane" it was made it clear who is getting things done. Percy, even in his glass prison, has made Amanda impotent.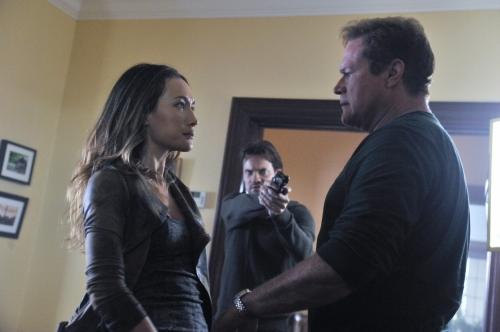 Percy's manipulation of Alex, Amanda, and ultimately Nikita was brilliant. It was quite the well-thought out plan, but cruel beyond belief. That Percy would manipulate a new recruit with a fake father demonstrated just how long Percy has led a highly questionable existence.
I know, Division itself was and is a nefarious organization, but this showed how inhumane Percy could be. At the same time, I have to give Percy credit because his plan basically worked perfectly until the end. He understands how to manipulate people into doing his bidding without them even realizing it. At the beginning of the season, I wasn't sure how Percy would be incorporated into the show given his situation, but have you noticed that Alex and Amanda both are spending more and more time down in Percy's domain?
I was surprised at how easily Alex and especially Nikita were played. They were both clouded by their emotions. Alex feared Gogol and was blinded by getting revenge on Semak, while Nikita had an uncontrollable desire to find her family.

More shocking than finding out that Richard was a Division plant and not Nikita's father -- her telling Michael that Max is his son. Wow. I think she was more hurt by Michael's reaction to the news and letting go of her hands than by the truth about Richard.

I'm glad that Nikita told Michael that truth; that wasn't a secret I wanted hanging out there indefinitely. But I also don't think Michael is the only one who knows. When Richard and Birkhoff were fighting, Amanda commented that there was a disturbance on the comm. That's how she knew that Richard was compromised. If he was wearing a comm then, he was probably wearing one the whole time. Nikita killed Richard to protect the secret, but it was already out there.
What will Division do with that secret? Will Alex find out and be able to warn Michael and Nikita? If Nikita keeping the secret from Michael caused a divide, Michael will be furious to find out that she let Division in on it even if inadvertently. 
What do you think will happen between Michael and Nikita? Does he love her enough to forgive her?
Carla Day is a staff writer for TV Fanatic. Follow her on Twitter and on Google+.