So... who was making waves on "Clear Skies From Here on Out?" Just about every character on Parenthood, that's who. With the exception of Julia and Joel, there wasn't anyone unscathed in some way. Let's break it down!
Zeek and Camille
After he booked a commercial for erectile dysfunction, the kids threw out every other "old people" product on the market (Metamucil, adult diapers, prune juice and Life Alert), but steered clear of the one thing that made them the most uncomfortable. Yep, dad peed his pants, but let's not think about the other ways he might use that thing!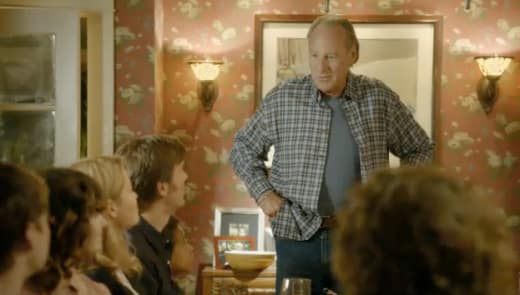 I had no idea Camille was so jealous of Zeek. The thing she loves the most in him is the thing that makes her the most unhappy: his ability to see what he wants and just go for it. I hated to see her feeling so poorly about herself. It's so funny how people don't see in themselves what everyone else does. Her character has always amazed me with her strength and compassion.
Sarah and Mark
Pictures of Sarah and Mark kissing went viral throughout the high school. Drew was absolutely mortified. The first time they tried to get together, it was Amber in their way. Now it might be Drew? Sarah and Mark are so good together. The scene when he told her how pretty she looked, prior to the kiss, was magical. She deserves love, even if it is with her kid's teacher.
Haddie and Alex
Kristina wanted to talk to Haddie about what might be going on between she and Alex, but unhappy Haddie just pushed her away. Haddie didn't possess the skills to deal with her Alex problem on her own. Adam and Kristina gave her so much leeway with Alex, but not enough support to get her through the hard parts.
When Alex broke up with Haddie, she was wooden. There was something missing in her heart that she couldn't process what he was saying to her. But... Alex. When he was talking to Kristina and crying all I could think was that I don't want him to go. His presence on Parenthood makes each week worth watching. If Michael B. Jordan leaves the show, we will all suffer a great loss of talent. His tears were so effortless and so real.
Max and Jabbar
Max was so happy to have a best friend, and Adam was so happy that Crosby's son was the one, that it was particularly sad to think of poor Jabbar being scared stiff to say no to Max. Crosby stepped into fatherhood with his talk to Jabbar, trying to explain that Max wasn't like other kids wouldn't have come as easily to someone without the childlike qualities of Crosby. He was proud of Jabbar, and I was proud of Crosby.
How Jabbar interpreted what Crosby said was another matter, and repeating it to Max made all hell break loose. They literally had a fight on the playground, which lead to Crosby, Jasmine, Adam and Kristina all fighting as well. It was horrible to watch, and and the saving grace was Crosby and Adam getting their loan. Nothing could steal that moment from them. They're in business together.
Another day in the life of the Bravermans and another satisfying hour of television. It's almost the dramatic equivalent of Seinfeld. A show about nothing, and yet about everything with which we can identify. I can't wait until next week!
Carissa Pavlica is the managing editor and a staff writer for TV Fanatic. She's a member of the Broadcast Television Journalists Association (BTJA), enjoys mentoring writers, wine, and passionately discussing the nuances of television. Follow her on Twitter and email her here at TV Fanatic.