In the first episode to not involve any adult cast member, the coven members found out exactly how serious and deadly things are getting with their magic.
We shared concerns last week that The Secret Circle might suffer from not being as action-packed/fast-paced as The Vampire Diaries. "Heather," though, proved it can play with the big kids just fine, thank you.
From the absence of any adult cast members, to the haunted house feel of Adam Barnes' residence, ending with the wind-blown chase through Cassie's home, this installment had all the classic markings of a Halloween popcorn-muncher. It even gave me a craving for candy.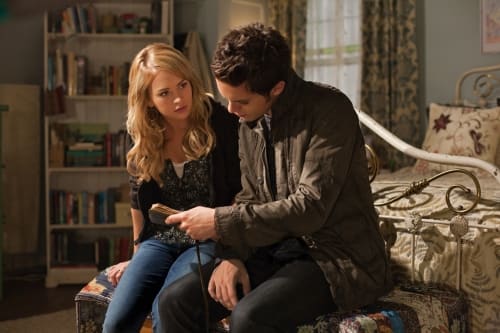 Oddly, using the classic tropes of slasher films worked. Having an episode sans adults and dedicated to the six members of the Circle allowed us to focus on how they are interacting and getting used to being bound together, depending on each other. A few things stood out for me:
Diana is going to clearly be the voice of reason. I'm not sure she will remain the top dog once Cassie is up to speed, but she is clearly the one that will think things through and point out the pitfalls. 
Apparently we traded grumpy Nick in for a much more romantic and caring Nick. Please tell me we can keep him. Watching him and Melissa together this week made me hopeful they will make it to full boyfriend/girlfriend status. 
Speaking of Melissa, I know that Jessica Parker Kennedy is in her mid-twenties. But, should they really be focusing on her cleavage and designer bra given the character herself is in high school?!? Don't get me wrong, Kennedy is absolutely lovely. I'm just not sure if Andrew Miller and his team have thought through the message they might be sending. 
I almost thought Faye was softening a little bit when she apologized to Melissa at the restaurant, sadly I was mistaken. I'm curious if almost being choked out by a demon possessed woman will make her want to play nice with the other witches. Nah, probably not.  
Then we come to Cassie and Adam. Cassie tried so hard not to be alone with Adam and there Diana went, pushing him on to her.  I'm telling you right now, Diana. When Adam and Cassie finally give in and hook up, you have nobody to blame but yourself. 
Just last week Diana and Cassie had a long talk about Diana's worries and fears. She has to be a much stronger person than I am to follow those fears up by sending the two out alone. 
Finally, if we learned nothing else this week, we learned the following rules:
Never do magic you don't fully understand.
Never, ever, ever do magic you don't fully understand! 
Jim G. is a TV Fanatic Staff Writer. Follow him on Twitter.