America's Next Top Model Review: Fashion Olympics

Kate Moon at .
It's getting down to the wire! With just five girls left in the house, tensions were running high for all involved in "Exploring Greece." When Mr. Jay announced that the girls had to critique one another for the challenge, you could just feel that fuse burning.
Sure enough, Angelea thew a fit when Dominique passionately announced that the former was the weakest link in the house. It probably came as a shock to Angelea because all the girls (making history of ANTM) magnanimously announced that no one is less deserving than anyone else.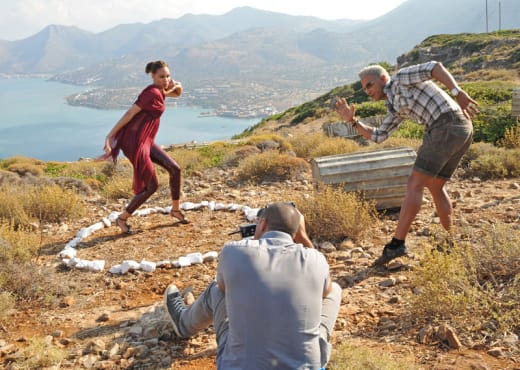 Although Dominique and sweet Laura attempted to help Angelea, she stormed out and was coaxed back only by Mr. Jay. Maybe it's because I adore Laura and she seemed genuine, but I thought Angelea completely overreacted. Does anyone think that girls were simply trying to throw her off her game?
I'm loving the change of venue so far, and it's refreshing that ANTM is trying to honor Greece and its wonderful rich culture.
The photoshoot with Nigel Barker involved "fashion Olympics." The girls actually attempted to mimic real ancient Olympic sports with fashion accessories. Via their fierce wardrobe and gorgeous cliff scenery, I thought the shoot was stunning. 
Another plus? Nigel Barker modeling the sports. The man is sexy with a javelin and a shot put. The photoshoot was relatively painless, as Dominique and Lisa stood out the most. Lisa's constant jumping was an advantage when she modeled the "hurdle." Laura was my personal favorite with archery. I loved her dress and her jeweled veil-helmet, and she looked so graceful with the heavy bow. 
Unfortunately, Angelea and Allison struggled with the shot put and discus. Not the most glamorous sports to model - and it definitely showed in their shoots, even though they looked stunning.
With the judges nitpicking with only five girls remaining, the bottom two - Angelea and Dominique - came as a surprise. Although Nigel repeatedly stuck up for Dominique, who did quite well in the shoot, she was sent home. 
I thought that the judges kept Angelea around just for drama, but do you disagree? And how much are you loving Greece so far?