Covert Affairs returned tonight after a long hiatus, and while "The Wake-Up Bomb" introduced some new concepts for the series, it didn't disappoint those of us that were eager to welcome Annie, Auggie and the rest of the DPD back into our lives.
The first difference was that Annie no longer lives with her sister. Viewers might have as much trouble adjusting to Annie on her own as this gorgeous spy had. It was easy to tell that she enjoyed coming home to a warm reception from Danielle and her family, and it was great to watch our heroine receive that love on a semi-nightly basis.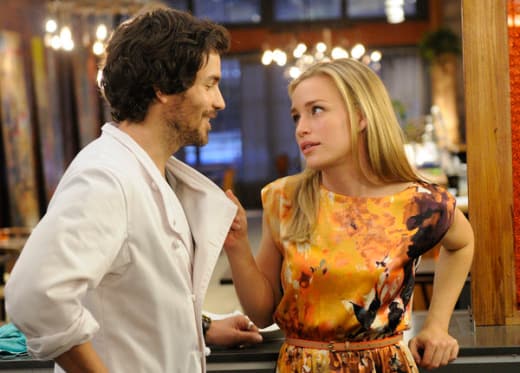 Those days are gone. Not only has Danielle kicked Annie out, but she spent the majority of this episode acting like a complete jerk to her sister. Thankfully, by the end of the hour, Danielle caved, and actually allowed Annie to take her time removing her stuff from the guest house.
As Jane noticed, this situation took its toll on Annie. She wasn't being herself, which is understandable considering the sibling feud and mission failure.
That's the other thing that was different about "The Wake-Up Bomb." We don't witness Annie failing all that often, so it was refreshing to see a different set of circumstances surrounding her here. Annie took all of Joan's actions throughout the episode as negative reactions to Annie's screw up, but of course it was just Annie reading way too far into things.
Annie is always too hard on herself, and she'll have to learn that even she makes mistakes sometimes... even though, let's face it, that doesn't often seem to be the case.
Still, there was plenty going on that should have seemed very familiar to us, which is always nice. First of all, Annie had a thing for a guy. What's new? The only problem? This time that the guy turned out to be a terrorist. Or suspected terrorist at least.
Xavier was a great character. I wished he had just turned out to be an easy romantic endeavor. He was much more likable than most of the guys she's been involved with throughout the series.
What else are we used to on Covert Affairs? Annie saving the day! Unlike her failed mission in the teaser, our favorite CIA operative put all the pieces together in the nick of time to save herself and Xavier from getting blown to bits by the latter's terrorist brother.
The final piece of familiar material was Jai being off on his own attempting to maneuver his way to the top. He seems to have finally perfected his craft, as we witnessed him trick his dad into pulling the necessary strings to get him promoted. This is a story, and a character, in whom I have yet to get interested. I could have cared less what Jai was up to. Perhaps that's just me.
"The Wake-Up Bomb" was a very nice return for Covert Affairs, even though it lacked in Auggie screen time and any appearance by Peter Gallagher. What did you all think of the episode? What was your favorite development?
Dan Forcella is a TV Fanatic Staff Writer. Follow him on Twitter.